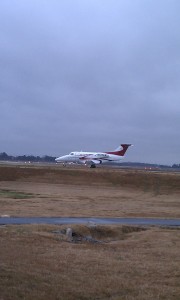 If you like airports and planes and such, then the PDK Annual Good Neighbor Day is just the place you need to be! It will be held Saturday, May 12th, 2012 from 12-5pm at the DeKalb Peachtree Airport in Chamblee!
This "little" private aircraft airport is actually the SECOND BUSIEST after the WORLD's busiest….Hartsfield Jackson Atlanta International Airport! I've hung out at the end of the runway or at the Executive area, and I can tell you I've seen some pretty impressive planes take off from this airport. But now is your chance to get up close and personal with some vintage aircraft as well as even catch a helicopter ride ($40 per person) or a bi-plane ride!
The PDK Annual Good Neighbor Day features a long list of Exhibitors that you can check out, which include numerous DeKalb County Departments! Visitors may view booths and exhibits in the Epps Hangar, and buy food and soft drinks from Briarlake Baptist Church. Food will also be available in the on-site restaurant, The Downwind Restaurant and Lounge, located in the Administration Building. There will also be plenty of play activities for children provided by Jump 'N Slide. 
There is no admission fee to the PDK Annual Good Neighbor Day; parking is $5.00 per vehicle regardless of the number of occupants. All Good Neighbor Day access is through Airport Road via Clairmont Road.
I can honestly say I've never been to this event, but for sure will be checking it out this year!