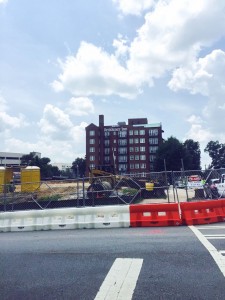 There truly is no end in sight for the apartment construction bonanza in Midtown Atlanta. Dirt is moving on seemingly every corner…and there is hardly a condo building in sight!
Post Midtown Millennium Breaks Ground on 11th Street
The forever vacant lot on 11th Street, between the Residence Inn and the Federal Reserve Entrance will be home to a 23-story, 356 unit apartment building called Post Midtown Millennium. The building and location is unique in that it is being built over the top of the MARTA line. There is no direct connection to the station, but it will be just a short one-block walk to the Midtown MARTA station.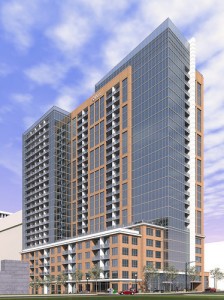 One can presume it will have the usual amenities such as a fitness center and pool area (I'm guessing on the top of the lower-portion of the building as seen here on the left.)  The roof of the building does not appear to have anything on it, but time will tell of course.
This will certainly busy up 11th Street with activity as 60 11th Street, the sister to 77 12th is also under construction less than a block away! Cranes, cranes, cranes you do see!
I'm asked by many if they think any of these new buildings will convert to condominiums before they open? That really depends on the financing the developer obtained and if it allows for a conversion, or if the building has to first open as apartments for 2-5 years, and then convert.
Let's just hope they don't all (or several of them) convert at once…or then we will go for NO new condo inventory to TO MUCH!