This month, I start a new series of posts here at MyMidtownMojo, entitled Reasons To Live In Midtown Atlanta.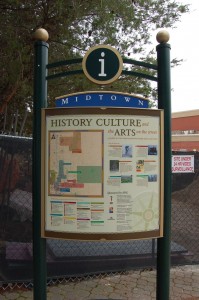 Think about where you live (in case you don't live in Midtown!)and what you like about it. Well, wouldn't you want to tell people about it? That's what I thought! So, I will be in search of Reasons To Live In Midtown Atlanta….and I'll be looking for some help! More on that in a moment!
MyMidtownMojo already has a big focus on the PLACES to live in Midtown Atlanta, but we know there is much more to what makes Midtown Atlanta…well….Midtown Atlanta!
And I want YOU to help! Maybe you know some little treasure, tucked away in a corner of Midtown that makes it special. Well, I'd like to share it here at MyMidtownMojo.
Send in your suggestions! Your name will be entered into a weekly drawing for a $10 Gift Card from Gordon Biersch Restaurant in Midtown!
Ah yes, a contest would not be a contest without rules….and so here are a couple:
Your Reason To Live Suggestion Must BE in Midtown Atlanta. (See the map below that outlines the Midtown Atlanta boundary as well as Midtown West, which we will include in this contest
Give us the Name of the Place, website address (if they have one) and where it is located (It can be anything but a place to live!)
Your Name, email address and phone number (No, we won't be selling it to the local Avon Lady!)
A brief description of why you think this place is a Reason To Live In Midtown
Contest Runs from March 1 -31, 2013
Your suggestions will be featured on future posts here at MyMidtownMojo and we'll be sure to give you a shout out for your suggestion!
Pass this along to your friends….let me be overwhelmed with things to post about  Reasons To Live In Midtown Atlanta!