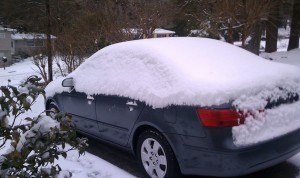 If you are new to the Atlanta area, you may have just learned this week that it CAN snow in Atlanta! You also probably learned it creates total chaos as well! When you have a few million people in a large metropolitan area that rely on automobiles as their soul source of transportation, and you get snow, well… But, if you are Relocating To Atlanta, Yes, It Does Snow.
Now that said, you can easily NOT make it the seemingly "end of the world" even that everyone else does. But, a couple key factors in how you handle a snow event in Atlanta will depend on 1) where you work and, 2) where you live.
Where You Work
And I mean this both in terms of location and type of job. If you have a job with great flexibility, and we have a forecast with snow, STAY HOME! If you can work from home….do it! But if you can't, at least try to have a conversation with your boss about getting out earlier. Especially if you have an already longer commute time to and from work. However, our recent event saw 30 minute commutes become 12-15 hour drives. Avoid THAT one if you can!
Another huge challenge can be if you have children. If the schools have not officially announced a closing, or early closing, you have to make the call to take your own kids out of school early, or keep them home altogether.
Where You Live
Again, if you have a longer drive, or one that is already pretty packed with traffic in NORMAL conditions, try to plan to leave early. Even people that lived just 8 miles from work could not get home in the recent storm, once the roads became icy and the traffic came to a grinding halt.
If you know bad weather is in the forecast (and sometimes they get it wrong and next to nothing happens) just take these few simple steps, that cost you NOTHING, but you will be MUCH better prepared:
Make sure  your car has a full tank of gas. 1/2 a tank may normally be more than enough to get you home, but if you get stuck on a freeway for 15+ hours, that 1/2 will not keep you going. Also, if the power goes out due to falling trees onto power lines, guess what, gas pumps don't work.
Stock up on provisions at home. Short of the milk, nothing is going to spoil. You'll eat it anyway. Or freeze it. Don't wait till the afternoon you are trying to get home either. How about a quick trip to the store THE DAY BEFORE it's supposed to be bad!
During colder weather (not even just a storm forecast) keep an extra coat or blanket in the trunk of your car. Maybe some gloves. A bottle or two of water. Some snack bars. All of these simple things would of helped many a stranded motorist in our recent SnowJam 2014!
And here is some other worthy tips you may not think of…or you might if you have already relocated to Atlanta. But, if you are in the process of Relocating to Atlanta, Yes, It Does Snow!