Every really good city (well at least a Big city…..) needs an airport. And if you are looking for one big guy, you found it right here. Relocating to Atlanta GA – Hartsfield-Jackson Atlanta International Airport!
The name itself is quite a mouthful. ATL is the airport code used by airlines. Most locals call it Hartsfield International. Or Hartsfield Atlanta. No matter what you call it…you can call it big.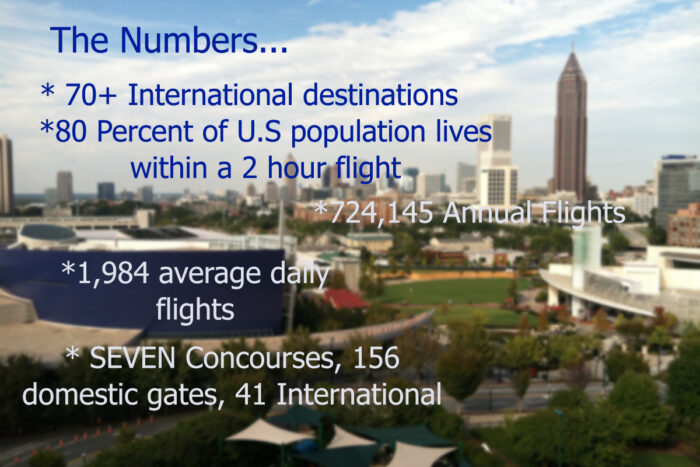 94+ Million Passengers Annually
275,000 Daily Passengers
Two Terminals (See my comments below)
Five Runways ( I think a hotel was lost in one expansion)
Besides offering you a non-stop flight to almost any city you want to visit, the convenience of Hartsfield-Jackson is why Atlanta is such a choice city for Fortune 500 companies to call it home! Do the names The Home Depot, UPS , Coca-Cola and NCR sound familiar? And don't forget that Atlanta and the airport are the global headquarters for Delta Air Lines.
The Layout of the Atlanta Airport
As I mentioned above, the airport only has TWO terminals, North and South. You just need to know which terminal based on the airline you are flying. (Delta pretty much owns the South Terminal!) But once you are in the airport, there is where people think it's confusing, or not a user friendly airport. Once you check in, you then have to ride The Plane Train, which is an underground train running from the two main terminals to the SEVEN concourses (T, A, B, C, D, E and F) The new International Terminal (F) opened in 2012 at a cost of some $1.4 billion. I can remember arriving in that terminal once BEFORE the Plane Train had been connected to it…and that was a nightmare to get back to the North/South terminals to then catch a MARTA train into the city.
I remember flying out of Dallas, Texas (DFW) and missing my flight because it was so far from the entrance to the airport, and then if you did not know your flight number, you did not know know where to go! Maybe it has changed since that time, but it was very confusing to me…at least. Here at Hartsfield Jackson, you just have to know your airline to get to the right spot. Once you are in the airport, then you've got that Plane Train ride.
How Do I Get To and From the Airport into Atlanta?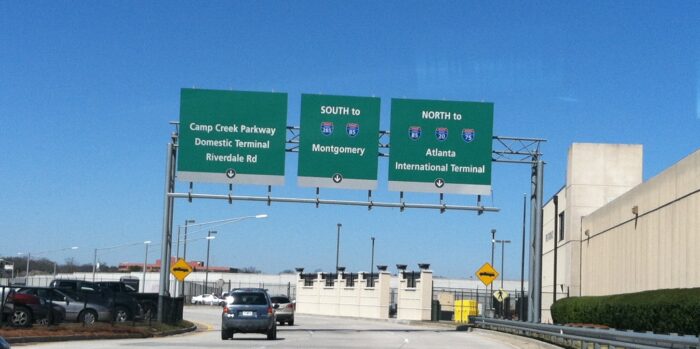 The airport is accessible by car via I-85 or I-285. That is for the North and South Terminals. The International Terminal has its own entrance, separate from the domestic terminal. The international terminal entrance is accessible from Interstate 75 at Exit 239. Roadway signage directs motorists to the international terminal via interstates 75, 85 and 285. Surface street signs also have been updated to direct motorists to the facility. All of the Interstate signage points you to Domestic or International. I think THAT is confusing.
Depending on where you live in Atlanta, using MARTA is the most awesome way to get to and from the airport. It's the final stop for both the Red and Gold Lines, and its connected directly to the Domestic terminal. If you live further North of Atlanta, you might have family or friends drop you at the outermost station and take the train from there. But if you live in areas like Midtown, Buckhead, Sandy Springs, and Brookhaven, access to the stations is relatively easy.
I've Heard Getting Checked-in and through TSA is horrible?
Well, yes and now. Lots of factors play into this, but it's best to error on the side of extra time on your Concourse (or the Delta Sky Club if you are a member) than miss your flight because of the long time at TSA. I honestly have never been in the TSA line for more than 30 minutes. I do have TSA Pre-Check….but thankfully have never been at the airport for the lines that I have heard snake around through the Atrium.
Truly, our airport is one of the best things about our city.