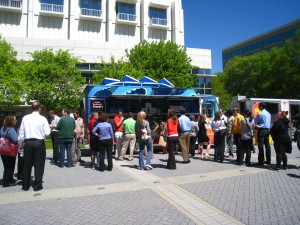 See on Scoop.it – Midtown Atlanta Conversations and Condos
Five trucks were issued citations Wednesday in Virginia Highland.

Now mind you, I understand that for the health and well-being of the public, we have to have some rules. Otherwise, it would be a free-for-all out there. I'm not sure of the cost of these permits, but I'd think a Food Truck could be issued a permit say, every three months, and it covers any location where the truck is going to work.

I can only imagine the nightmare of being in 4 or 5 places in one week, and needing 4 or 5 permits? Come on ATL, let's make doing business in ATL easy, not harder.
See on midtown.patch.com