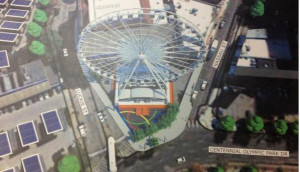 Downtown Atlanta is about to get another new attraction…and a pretty cool one at that!
The Atlanta City Council approved plans for the Atlanta Ferris Wheel, called SkyView Atlanta, at its Monday meeting. No city funds are being used to install the ferris wheel, but the City Council did have to approve the project due to neighboring utility lines, and the soon to arrive Atlanta Streetcar.
SkyView Atlanta Ferris Wheel will have an international connection as it was first in Paris,France! More recently it was in Pensacola, Florida and is currently in Pennsylvania, although it does not mention if it is in storage or in use there. It is expected that Skyview will begin assembly here in Atlanta within just a few weeks, and may even be up and running in June! Stay tuned her and I'll be sure to capture some photos of the site before, during and after the assembly of the Wheel.
The cost for a ride is expected to be $13 and last about 15 minutes.