The possibility of another Midtown Atlanta corner changing appears to be one step closer as the SLS Atlanta Hotel Residences moves forward.
Trillist (the developer of Yoo On The Park apartments) appeared before the Midtown Alliance Design Review Committee (DRC) this past week. This was a follow-up presentation to a previous visit.
The building will be located at the corner of 13th and Cypress Streets. NO, NOT the parking lot next to Opera Nightclub, but the low-rise apartment building across the street? I guess we can say Bye Bye! And she will be a skyscraper with a proposed 43-story tower that will contain 214 hotel rooms and 66 condominiums, along with 12 levels of podium parking. (Yes, we still need those garages!!!)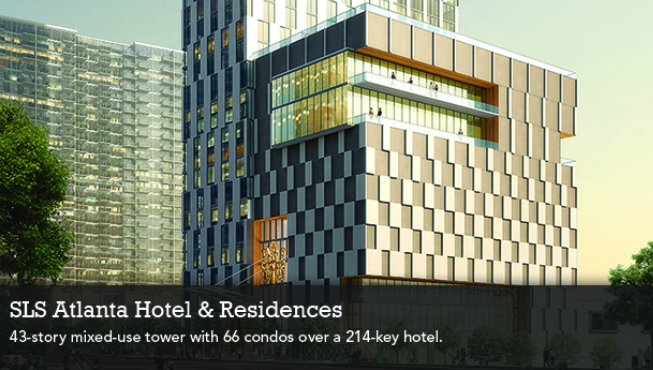 It's probably pretty safe to say that the condominiums will be on the upper end of the market price! But this will certainly be an exciting addition the area. 60 11th Street apartments recently opened as part of the 12 & Midtown development, and a new dual branded Marriott Hotel product is scheduled to go up on 14th Street between the Four Seasons and the Marriott Suites Hotel.
Depending on how quickly this project moves forward, me may soon see another "Midtown Bird a.k.a. a construction crane" on the skyline.
We will keep you posted on this one!