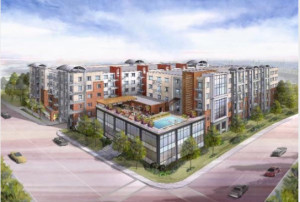 An area of Midtown Atlanta that has seen minimal development is SoNo (South of North) But those times, they are a changing!
In January, construction (or demolition of existing buildings) started on 131 Ponce de Leon Avenue, a 280 apartment mixed-use project on a 2.5-acre property bounded by Juniper Street, and Ponce de Leon, North and a portion of Piedmont avenues. The site — located at 131 Ponce — sold last year for $6.5 million and includes the entire block except for St. Paul's Presbyterian Church, which many will remember as the former, well-known Abbey restaurant.
The property includes famed architect I.M. Pei's first office building, the former Gulf Oil Building, which until being closed,  had been used as office space by various small businesses.
The buyer was a joint venture between Sereo Group and Faison Enterprises Inc. Both companies are located in Charlotte, N.C. and  are now constructing the $50 million apartment building that will include 3,800 square feet of street front office space. The garden-style apartments will be six stories. (Just goes to show that developers do not always see the need to reach for the sky in Midtown!)
About 80 percent of the apartments will be Studios or one-bedrooms apartments will make up about 80 percent of the building units, and the 393 internal parking spaces will hidden from street view by the apartments.
About one-third of the "Pei" building near the intersection of Ponce and Juniper will be retained/restored and will include many of the project's amenities including a leasing office, fitness club, pool, lounge and business area.
Meanwhile, across the street, they will soon break ground on a state-of-the-art, $225 million, 115,000 square-foot cancer-treating proton facility on a 2.39-acre property bounded by Peachtree St., North Ave., Juniper St., and Ponce de Leon Ave. Some may remember this corner as the site of the old Wachovia building that was imploded not to long after 9/11 (I was there to see this….) and this was also going to be the site of the Fox Premeire Plaza condominium building…that never happened.
The Georgia Proton Treatment Center at 615 Peachtree St., the state's first proton therapy facility and just the 10th in the country, is a joint venture by Emory Healthcare and Advanced Particle Therapy, LLC of San Diego. When completed, it will employ approximately 110 professionals and treat around 1,900 patients annually.
It is expected to take about three years to build and open, and upon completion,  will feature five treatment rooms, four with 270-ton rotational gantries.
The main pedestrian entrance to the project will be at the corner of Peachtree and North with retail space stretching along portions of Peachtree – the only retail space offered in the plans.
Nice to see some things happening in this area of Midtown!