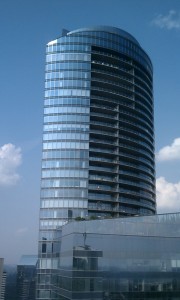 As much as I love My Midtown Mojo…we have to venture out and see what the rest of the world (a.k.a. Atlanta) has to offer. Truth be told…there are some pretty impressive condominium buildings throughout Atlanta. A striking one in every way is Sovereign Buckhead.
I attended a Broker Open House way back in September, 2009 but the building is still as amazing as ever.
Sovereign Buckhead sits atop an office building on Peachtree Road in Buckhead. Since the residences start on the 28th Floor, you can just imagine the vistas that every home offers. The are no 1 bedroom homes, only 2 and 3 bedroom homes, and they are certainly not your 1200 sq. ft. condo we often write about. Two bedroom floor plans range from a "small" 1,563 sq. ft to 3,203 sq. ft. YES, for a 2 bedroom…that big! The photo of me below is taken in the unusal corner of the largest 2 bedroom, but that floor plan is Sold out! (Never fear, still plenty of options available!)
One would expect some outstanding amenities in a building like Sovereign Buckhead…and that they are: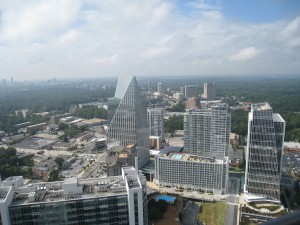 Only 82 residences, starting on the 28th floor
 28th-floor Skyline Pool and Spa
 5000-sq. ft. staffed executive fitness center
 Complete concierge club services
 Timeless architecture with traditional interiors
 Floor-to-ceiling windows with outstanding views
 Membership to the Buckhead Club
 Home of Bistro N iko
 Extensive art collection procured for homeowners
Sovereign Buckhead. Simply stated….WOW! Intown Atlanta Real Estate does not get much better than this!