Stepping Up to Business – February 29, 2012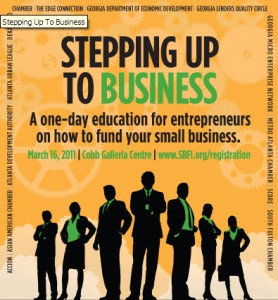 While my primary purpose in life these days is to help bring Buyers and Sellers of real estate together, I find I also kind of have a roll as an information source. Information about my neighborhood, Midtown Atlanta, as well as information that you, the reader might also find interesting, or useful.
Case in point. These are some trying times. And many say that our recovery hinges on the small businesses of our country being able to be profitable, and to hire employees. We all know what that means, from real estate to retail. The economy will start to move…and in the right direction. But, small business owners often lack the resources, be they from training to money to make things happen.
Along comes my friend and business associate, Charles Green and the Small Business Finance Institute. And more importantly, their Stepping Up to Business event to help educate entrepreneurs on ways to finance their small business.  This one-day education opportunity will be held on February 29, 2012 at the Loudermilk Center. An exciting opportunity to learn how to finance your small business.
A great learning opportunity with some people who know about it! Be sure to check it out.