Summerfest Virginia Highlands June 5-6, 2010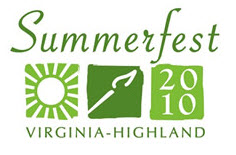 The 27th Annual Virginia Highlands Summerfest is upon us! This event, sponsored by, and to raise money for the Virginia-Highlands Civic Association will be held on Saturday and Sunday. Summerfest is located on scenic and historic Virginia Avenue between North Highland Avenue and Park Drive.
Parking for the event is extremely limited. It's a hike from the Midtown MARTA station, but  you can take the No. 45 bus, from the North Avenue MARTA station or Midtown, or from Lanier Boulevard, University Avenue, or Stillwood Drive. This line doesn't run on Sunday, and the Saturday route will detour onto Ponce de Leon Avenue, although the route to Summerfest from each end will not change.
The juried Artists Market will feature art in the following categories with a variety of prices:
Painting
Photography
Clay
Metal
Stone
Wood
Jewelry
Glass
Textiles/Fiber
Graphics
Mixed Media (2D & 3D)
Looking for a specific artist you want to purchase from? Here is a link to a page that will provide a list of the artists.
Kidsfest
This year, Kidsfest will be held near Arcadia at the edge of John Howell Park. Kidsfest features unique games, crafts and activities for children of all ages. Most games, crafts and activities are free. Times are Saturday, June 5 (10am to 6pm) and Sunday, June 6 (Noon to 5pm).
Of course there will be food available at the many restaurants in Virginia Highlands as well as "adult" and kid beverages.
The DaveFM Music stage will be chock full of acts sure to please everyone. Here is the schedule.
Come on out and support this great neighborhood festival, Summerfest in Virginia Highlands!