1280 West Condominiums is another apartment-to-condominium conversion in Midtown Atlanta. Originally corporate apartments, the homes do not have washer/dryer connections, but there is a laundry room on each floor of the building.
What's My 1280 West Condo Worth?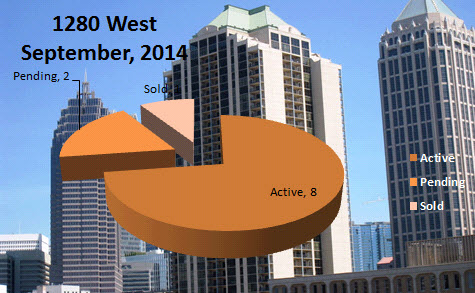 ACTIVE LISTINGS (8)
Seven 1 Bedrooms ranging in price from $85,000 to $152,900
One 3 Bedroom listed at some $820,000!!!! (This is a combination of three homes on the 38th floor! A spectacular looking home, but the building?)
PENDING LISTINGS (UNDER CONTRACT) (2)
Two 1 Bedrooms at $135,000 and $139,ooo
SOLD (1)
In comparison, in September, 2013 there were Five 1 Bedrooms that sold, ranging from $67,500 to $119,900. As is the story in most all Midtown condominium buildings, you can see how the prices have risen in 2014 from 2013!!
Prices can vary greatly in this building. When it was converted from apartments, current residents could buy the apartment they were living in, either in its current condition, or at a higher price with it being renovated. So the sales prices are vastly different and all over the place!
What's My 1280 West Condo Worth? Want to know what your 1280 West Condominium could sell for?