If you are relocating to Atlanta, chances are you first came to Atlanta on a job interview or perhaps a house hunting trip. If so, you probably flew into the little airport that services our great city! If you have not been here yet, here is your guide!
When traveling, there is nothing worse than not knowing the airport you are going to be arriving in, or better yet, changing planes in. Never fear, your
"Everything You Wanted to Know about Hartsfield-Jackson Atlanta International Airport is Here!"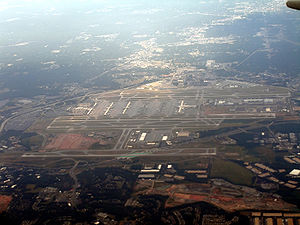 First, a little history about how we got to be the world's busiest airport! HJAIA started back in 1925 as Candler Field (named after the former owner, former Mayor and Coca Cola tycoon, Asa Candler.) If you can imagine, the city bought the land (an abandoned auto racetrack) for a mere $94,400!! Of course that was A LOT of money in 1925, but considering it was 287 acres…..The first flight came on September 15, 1926, and Delta Air Service (now Delta Air Lines) began service in June, 1930, and moved its headquarters from Monroe, LA to Atlanta in 1941. In June, 1956, an Eastern Airlines flight to Montreal, Canada was the first international flight. Jump ahead….in May 2001 construction of a 5th, yes FIFTH runway began, and was completed in 2006 at a cost of $1.28 Billion. With this additional runway, HJAIA is one of only a few airports that can perform triple simultaneous landings!
Many travelers are confused about the airport and it's layout, so let's break it down. There is a Main Terminal where all passengers are dropped off and picked up, along with the usual ground transportation services, parking and a MARTA train station. Actual airline flights depart from a series of Terminals or Concourses, T-E.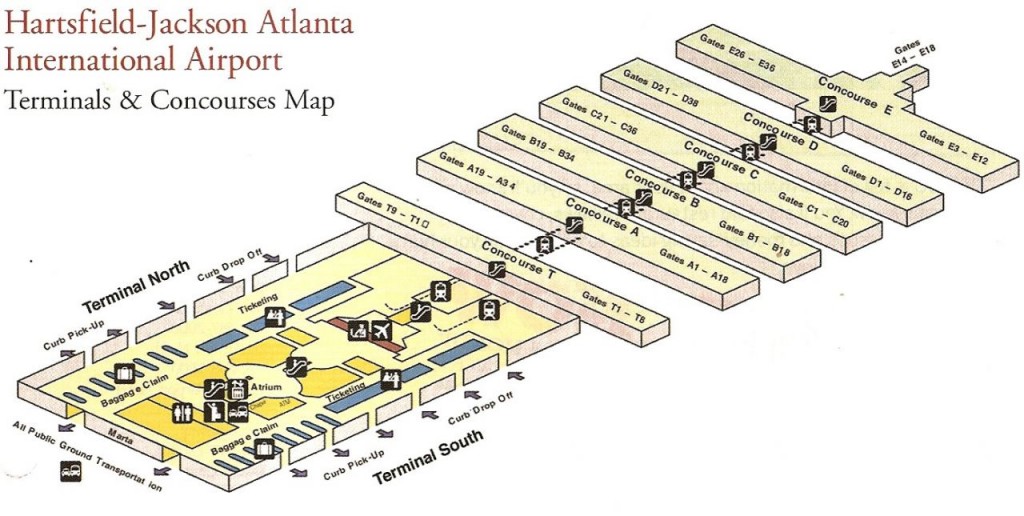 Where Atlanta departing passengers get confused (and sometimes miss a flight) is the time required to get from the Main Terminal to the Concourse where their flight is departing. Especially now with heighten security measures, 1-1.5 hours would be a fair time to allow. Once you clear the security check-point in the Main Terminal, a series of escalators takes you to the Transportation Mall! (No stores, but lots of moving sidewalks, art, and the Automated People Mover (APM).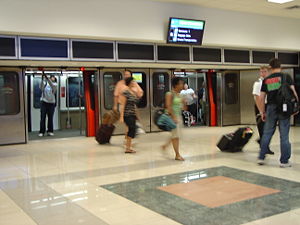 For a clearing understanding, let's just call it the train! The train stops at each of the Concourses, running about every 110 seconds. So, if you are departing on Delta #999 at Gate B29, you would take the train to the B Concourse, take the escalator UP from the Mall, and then go left to your gate. There was much to do a few years back when people said the trains "voice" was not friendly enough! It use to be quite robotic…I could imitate it quite well! Now it's a more friendly voice that announces the Concourse arrival and departure as well as the warning that the doors are closing.
But, lets back up for a second, and take a closer look at the ALL important
Main Terminal!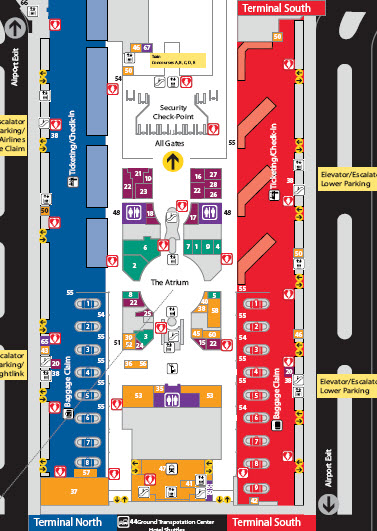 One thing that makes an Atlanta departure much easier (in my opinion) is the way the Main Terminal is set up. If you are flying Delta Air Lines, Aero Mexico or Air France, you will be headed to the Terminal South. ANYBODY else, you are headed to Terminal North. Once curbside at either Terminal, you will see signage directing you to curbside check-in for your departing airline. (Above, it's noted as Ticketing/Check-In) Keep in mind, this is the SAME area where you PICK UP arriving passengers as well!  If you note on the map above, the oval circles with numbers 1-8 or 9…That is Baggage Claim! There is short term parking at the Main Terminal if you are dropping travelers off, and want to spend some time with them in the Atrium, before they clear Security and head to the Concourses. Will talk more about other airport services in a moment. Next, let's talk about the
Concourses!!

This is an example of Concourse A. In the middle is the Entrance and Exit Escalators to go to either Concourse B-E or to Concourse T and the Main Terminal and Baggage Claim. As I mentioned above, if you were departing from gate 29, you would come up from the Mall, turn left and 29 will be on your right!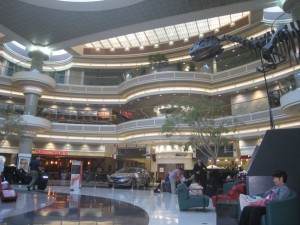 There is food and beverages located on each Concourse, but some are better than others! Concourse A & B both have Chili's, Cinnabon (my favorite!) and Wolfgang Puck. Concourse C and D are not as great, and the International Concourse (E) is another world! The Main Terminal features Atlanta Bread Company, Domino's and Houlihan's.
Retail is making some inroads at the airport as well. Recent announcement for future stores include Calvin Klein, Brooks Brothers, Salvatore Ferragamo and Blackberry!  A $6 Billion capital improvement makeover is underway which will include a new International Terminal, a new rental car facility and upgrades to the concourses, the "train" and parking service.
So, the next time you fly into, out of, or change planes in Atlanta, you'll know where to go!
In May, 2012, Atlanta Hartsfield Jackson opened the new Maynard H. Jackson Jr. International Terminal (Terminal F). While a beautiful facility, it is not connected to the other Terminals or the Main Terminal. So, if you do arrive into Atlanta on a domestic flight and are changing to an International Departure, or the other way around, you will need to take a bus to the other terminal! Quite inconvenient!  For as much as this new terminal cost (cost overuns) it should of been connected with the People Mover Train!  You also get to this terminal from I-75 vs. the Main Terminal from I-85. Unless you are actually leaving on an International flight, it's pretty hard to get a look at this new baby. There was a public viewing time before the Terminal went fully operational, but I missed it! Bummer!
Delta Air Lines and AirTran Airways(which is merging with Southwest) are the two major carriers at HJAIA, but of course, Alaska Airlines, United (merged with Continental), Frontier, Spirit, US Airways, Northwest (soon to be Delta) and American service Atlanta as well.