Congratulations! You found that new home or condo that you have been looking for! But guess what….now you have to MOVE! Whether it's a new job and you can afford your first home, a job transfer, maybe you are moving up (or down) … whatever the reason for your move, it's a big thing to move. Let's look at 8 Tips For Moving Into Your New Home:
Utilities – I Mean Ya Gotta Have Power!
If you worked with me as your Realtor®, I will have reminded you about setting up utilities. This will be much different for a single family home than it will be for a condo. In a house, you will need to arrange the following: electricity, gas (if you have a gas furnace or appliances), water, phone (who has a landline now days?), Internet and possibly garbage service.
In a condominium, what you have to arrange for will vary based on how the building systems and billing are set up. Some condo buildings you have to contact Georgia Power to have the power in your name. Some buildings actually bill this as part of your monthly HOA fee! Same goes for gas. Water/Sewer are usually billed through the HOA on the same statement. Newer buildings most likely will have Internet bundled into your HOA fee…you just have to set up a wireless router inside your condominium. Garbage is part of your monthly HOA fee.
Change of Address
You probably don't realize how many things you get in the mail that actually need a change of address. Magazines and catalogs would be the most likely ones you might forget. I've checked the mailbox on rentals condos, and I'm amazed at the things that are still coming to the past tenant. The same will be for you when you move in if they did not change their address…and where are YOUR subscriptions? It might be a good idea to start keeping a list a couple months before you actually move so you don't forget these!
Many of us have opted for paperless statements from our bank to car payments to credit cards. So that's no problem. But in case you do still get them by regular mail, you will need to make those changes.
And don't forget your insurance. When you purchased, you had to provide your homeowner's policy to your lender. But…there's your car! You will need to change your address for this insurance…and you will have to visit the local Department of Motor Vehicles (in Georgia it would be the County Tax Commissioner) to get your new license plate ( we call it a "tag" in Georgia). Even if you moved counties in Atlanta, say from Fulton to DeKalb, you should make this change. It could have a difference on your ad valorem tax.
Change The Locks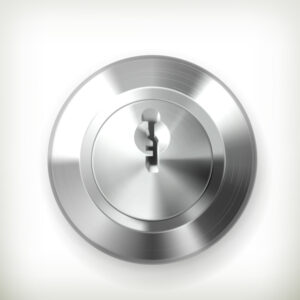 Depending on the condominium building you purchase in, this may not be necessary. If the building requires a FOB to access the lobby and elevators, it would be pretty hard to get to your floor and your door. (Side note: When you purchase, check with the Concierge or Management Office to confirm how many fobs are assigned to your home…and how many are ACTIVE! Maybe a housekeeper had one, and it never got returned and is still active?) But, if you want peace of mind and want to change the locks, you have to make sure the lock matches the rest of the locks on the doors! AND…you need to provide a new key to the Concierge as they have key to all homes for emergency use.
If your building only requires a fob to enter the building, and then you can go to any floor or amenities, then I strongly suggest you change your locks. Before you even move in!
As for a single family home or townhome, 100% yes, change ALL the locks.
How Clean is Your New Home…..Really?
Unless you bought new construction (and there could still be some cleaning you want to do) your new home may not be as clean as you think it is…or you want it to be! There are a couple ways to approach this.
You might want to do it yourself! This way you know what kinds of cleaning products were used, and how well it was actually cleaned because…well you did the cleaning! Another option is to hire a cleaning service to do a detailed cleaning. This may or may not include carpet cleaning and this might be an additional step you want to take. You can do either of these types of cleaning before or after you move in. Obviously, if you have time, doing it when the house or condominium is completely empty will make it easier for you or the company you choose.
Pest Control
Covered in a condominium building….for the common areas, but you are responsible for your own home. Might need a spray around a sliding door or window or your entrance door, but that should be it.
In a house, you have more to be concerned with. In Georgia, we have it all….from roaches to ants to squirrels. You will want to have a monthly or quarterly service for this. It's a must. Period. Also, you will want to have an active termite protection on your home. This can be done several ways. When you got your Seller's Property Disclosure Statement, there should have been information as to what type of bond your home has, and with with company. You will want to contact them to continue that service. (Lenders no longer require a termite inspection or letter as part of the lending process. If we have any concerns on a home you are looking to purchase, this is an additional inspection we would of completed during your due diligence period.
Some Fresh Paint – That Orange Wall!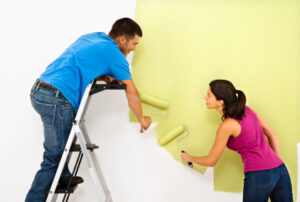 New construction will be all nice and fresh…but anything else….
Now, the Seller as part of preparing the home for sale, may have painted some, or all of the rooms. So this may already be done for you. But if not, there is nothing that gives a home a fresher feeling that a new coat of paint. There could be minor scuffs, or remaining nail holes that would be cleaned up. And then there is that orange bedroom you just can't live with!
If you can paint before you move in…it is way easier! No furniture to move or cover…just the floors! If you hire a professional painting company, ask for a discount for vacant rooms as they also don't have to worry about moving furniture or having to cover it all!
Hello Neighbor!
You can do this while you are preparing your home (cleaning, painting, etc) or once you have moved in. Some neighborhoods may have an association and a welcoming committee that will show up at your home with a bag of "goodies" and information about the neighborhood, association and more.
Getting to know your neighbors is a great way to learn more about your community. You can actually go door knock on the surrounding homes (might creep some people out so just use some common sense) or just keep an eye open for when anyone is working in their yard, or picking up the mail, walking a dog, etc.
In a condominium building, I would not suggest you knock on doors!!! One way is to attend any building events like Board Meetings or Committee Meetings to start to meet people. If you have a pool or fitness center, this is another way. You may not see many of your neighbors on your exact floor, just due to people's schedule. If you have a dog, you are sure to meet others when you are on the elevator, or at a pet station. I have heard of some people doing an Open House of sorts, and inviting all the people on their specific floor. Ahhhh…ya never know who might show up…but I'll leave that up to you!
Emergencies DO Happen…
And you need to be prepared for them. This can be much different in a condominium than a single family home, so let's look at them separately….
Condominiums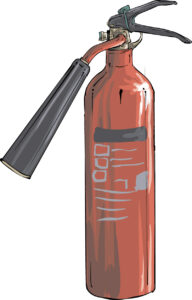 Whether you have 3 stories or 30 stories, make sure you know where the closest exit stairway is to your home. If a fire alarm goes off, don't wait to see if it is a false alarm. That time you delay could be life-saving. Newer buildings have more sophisticated systems and a Concierge can alert the residents via a PA system if it is a false alarm. But remember, they have to get from the First Floor to where ever that alarm went off to determine if it's a false alarm. Most systems only allow a short period of time and then the entire building alarm will go off. Keep these points in mind:
Take your keys and Fob with you. When the alarms are over and you are allowed back in the building, you will need your Fob to …get back in the building!
Know what floors you can gain access back into the building from the stairwell. Stairwell doors are fire doors and should never be propped open. Doing so can help the fire spread. But if you are in the stairwell, and can't get down, there are certain floors where the doors will let you back into the building. You can get this info from the Concierge or Property Manager.
Take a damp towel with you. If you run into smoke, you can cover your nose and mouth.
If you feel the need to remain in your condo, get water running in your bathtub….so you have it for towels, etc. The water may get shut off or service interrupted and you won't have any.
Do not tamper with or disarm your smoke detector! In a high-rise building, these are connected to the building system and are important. If your detector starts beeping, change the batteries.
Single Family Home
Have an exit plan and a place for all family members to meet outside the home so you know everyone is out. This would be for a fire. In the event of severe weather like a tornado, have a safe place in your home. A basement is the first choice. If not, an interior bathroom…and have something to cover yourself with. Children and adults can wear a bike helmet to protect you from any falling debris, but other things like blankets will help.
If you have a two story home, have emergency ladders in bedrooms so you have a way to exit the home. Have smoke and carbon monoxide detectors. Have fire extinguishers on every floor.
Wrap Up!
Moving is an exciting time for you and your family (and don't forget the four-legged children too). But following these tips can help it be a little less stressful..and planning in advance what will happen and when! We hope these 8 Tips For Moving Into Your New Home were helpful!
If we helped you purchase or sell your home, we are honored to have been a part of the moving process!