City Of Doraville Gets New Residential Sanitation Service
The residents of the City of Doraville will have a major change in their garbage service, beginning February 5, 2020.
In late 2019, the City Council voted to move the city's garbage collection from Advance Disposal to the Dekalb County Sanitation Division. Cost savings may have not been the determining factor, since the new service will cost City Residents an additional $100 per year for the garbage collection. But, we looked at what is included in the new service, which is aimed at cleaning up the city, especially with regard to bulky items that have often remained on the curb of homes for days or weeks before being picked up.
The new garbage service includes:
Unlimited curbside garbage pickup
Unlimited recycling pickup (subject to restricted items)
Weekly pickup of yard trimmings
Weekly pickup of bulky items…think couches, mattresses, toilets and televisions .. to name a few!
Special collections for items like dead domestic animals, auto tires, construction materials and tree limbs cut by professional companies will require an extra fee, although literature provided to residents did not offer up what those fees may be.
For curbside recycling, the list of what is picked up vs. what is NOT picked up is about equally as long on either side. Stand out items that ARE UNACCEPTABLE include glass, waked paper, aluminum or tin foil, foam rubber or packing material, polystyrene cups and to go trays and more…..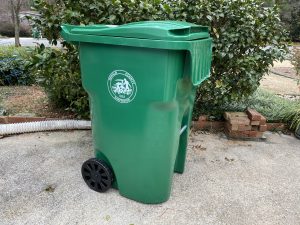 Residents have already been provided a 95-gallon roll cart for household garbage. These are the same size as previous containers, but are numbered and assigned to an address. At a later point, residents will receive a 65-gallon recycling roll cart.
What will prove interesting is the pick-up schedule. The once-a-week collection day is on Wednesday. This means…a single home could have lawn bags, a bulky item, and both their recycling and garbage roll carts at the curb. One presumes it's going in multiple trucks. One for garbage/bulky items, One for the recycle items and yet another for the lawn debris that should be going to a composting area somewhere in the County. The first service is on Wednesday, February 5th…so we shall see.
You can find all of the information that was included with the delivery packet and the green roll cart here on our website.