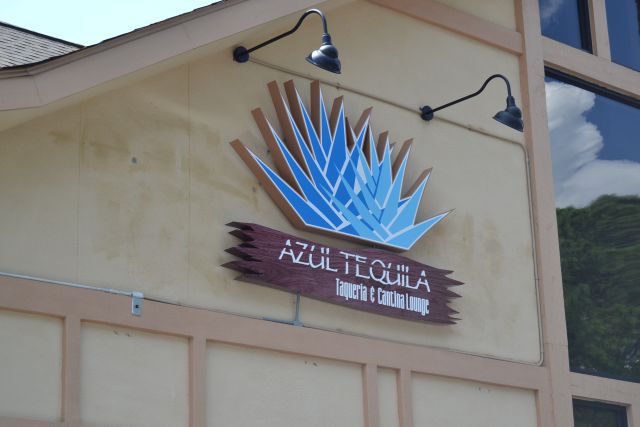 You see them everywhere. Mexican restaurants. But not of all them are the same.
As I share information about Living Near Pinewood Studios Atlanta, one of the features will be to help you know the good, the bad and the ugly of restaurants. I don't write a post about a restaurant, unless I've actually eaten some of the food. It may be just an appetizer, or it could be a full meal…but at least I have sampled something! So Friday, while in Fayetteville, I for some reason ended up driving Highway 54 to the edge of Peachtree City. (Part of it was a wrong address on Google Maps….there I admit it!) And here, I stumbled upon Azul Tequila Taqueria and Cantina.
Living Near Pinewood Studios Atlanta | Azul Tequila Taqueria and Cantina
Azul Tequila Taqueria brings the flavors of authentic Cocina Mexicana (Mexican Cooking) together in a great atmosphere!  Besides the Taqueria on the main floor, they have the Cantina Lounge on the upper level with a huge selection of tequila! I'm not sure if this is the "hot spot" on a Friday night, but it might be worth looking into?
One of the first concerns I have in a restaurant is how will the food, or service be at an "off time." My check says 3:27pm for my late lunch with my business partner. I didn't sample a Margarita, but opted for a Miller Lite. The menu is plentiful, but I opted to the Lunch section, which was still being served. The time of day made no difference….the service was prompt and friendly…and the food….well…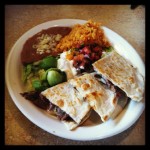 I selected the Steak Quesadilla and Ray had the Enchilada Suizas.  The quesadilla presentation was every bit as good as the flavor! Truly some of the best Mexican food I've had.  The menu says rice OR beans, but I got both, along with sour cream, avocado, pico de gallo and some shredded lettuce. Needless to say, there was not a crumb left on the plate!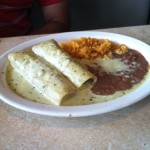 Ray's Enchilada Suizas was two corn enchilada's stuffed with shredded beaf, and topped with a to die for cream cheese sauce! Totally YUM!
When Pinewood Studios Atlanta opens nearby in January, this will be a great location to hop over to for lunch or dinner. It's about 5 miles from the studio entrance, give or take. Traffic moves smoothly on Highway 54 so you should be able to get in and out quickly if lunch off the studio lot is called for!
I have numerous other restaurants to try and tell you about…but I can tell you I'll be back to Azul Tequila Taqueria and Cantina!