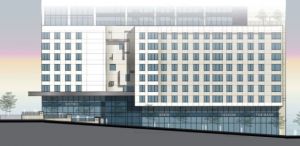 Another proposed apartment building will offer more off-campus apartments for students at Georgia Tech, and possibly SCAD. The Mark at Atlanta will eat up some more surface parking as well as three buildings.
Landmark Properties and City Life Development Partners have proposed a 28-story apartment building at the corner of Spring and 10th Streets. This is across the street from Hanover West Midtown (once upon a time the Checker's Drive In Restaurant). This new site is a surface parking lot, Domino's Pizza, a small old apartment building and a doctor's office. (See Map elsewhere in this article)
The Mark at Atlanta will have 18 floors of residences, 9 levels of parking for 380 cars and street-level retail on 10th Street as well as Spring Street. (And people said nothing will happen on Spring Street…..yeah!)
This building will join SQ5 and University House that have already been built just South of this site…and further South, the under-construction The Standard. There is some market for student housing obviously in the Georgia Tech area.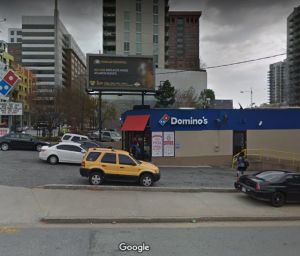 While further from the SCAD campus, it might offer housing options for those students as well.
What will be challenging, is the residents that live in Aqua Condominiums, just next door. For those that own one of the "04" Stack on the West side of the building…their balconies will pretty much look right into this building! Yikes! But, I've always told condo buyers, that as long as there are vacant lots, or low-rise businesses on a site, they are prime to be taken for future development. And now we see it once again!
With Aqua being 25 stories, and the new building at 28, they will be neck and neck. The new site has slope to it, so the actual line-up between the two buildings remains to be seen.
The project came back through the Midtown Alliance's Design Review Committee (DRC) on November 14, 2017. The notes from their second review of the project:
The Midtown Development Review Committee (DRC) saw a follow-up presentation for a student housing project proposed by CityLife Development Partners and Landmark Development. "The Mark at Atlanta" was presented previously in October and the committee requested more information related to the retail layout on 10th Street and the vehicular access and loading on Peachtree Place. They also recommended that the developer meet with residents of the adjacent condo tower, Aqua, to discuss concerns related to access and quality of life issues such as noise and site lines into the parking structure. Since then, the development team made significant strides in addressing all identified concerns apart from the main sticking point involving a proposed curb cut on 10th Street. The DRC was not supportive of a variation to allow the curb cut on 10th Street due to the negative impact it would have on traffic flow along this corridor and the potential for traffic and pedestrian conflicts given its proximity to an existing curb cut on the adjacent property. Further, 10th Street is viewed as a preferred location for retail and restaurant space and removing the curb cut allows more opportunity to activate the street level with those types of uses. The committee recommended an alternative location for the curb cut on Spring Street. The development team is exploring this option and other modifications and intends to proceed with an electronic review before the end of the year.