Museum of Design (MODA) Moves to Midtown Atlanta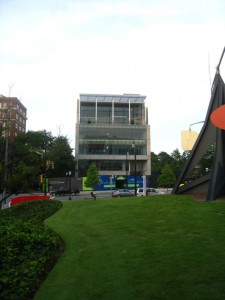 Midtown Atlanta has long had the name, "Heart of The Arts," and with good reason. From the High Museum and Woodruff Arts Center, to the Fox Theatre, 14th Street Playhouse and the Laughing Skull Theatre, we've got some art happening in Midtown.
So, it just seems a natural fit to hear that the Museum of Design (MODA) is moving from Downtown Atlanta to a new location across the street from….The High Museum! How perfect could that be!
Now, let me be the first (well, maybe not) to say, I did not even KNOW about MODA and the Downtown Atlanta location! Now, it will be right across from another major museum, and hopefully this will bolster its image and awareness.
In an article at ArtsCriticATL.com,  Brenda Galina, the MODA Executive Director said, "Having Peachtree frontage in the culture district is a dream." The new location will be on the ground floor of the new headquarters for Perkins + Will, an architectural firm and will be located at 1315 Peachtree Street.
The Museum of Design will need to work to generate more income and grants to be there for the long term. But with a great location in Midtown Atlanta, art lovers now can get a "two for one" by having two museums across the street from each other!
Thomas Ramon Realty wishes Ms. Galina and the museum the best and we look forward to seeing the new "digs" when they open next year!