MidCity Lofts is a convenient building to Technology Square at Georgia Tech, and all the innovation incubators that are going on there!  There is a new apartment building going in across the street that is related to all that, but unclear if you have to actually have something to do with GATech or the incubators to live there. But these are rentals, and not condos for sale.
What's My MidCity Lofts Condo Worth?
So let's take a look at what happened at MidCity Lofts in September!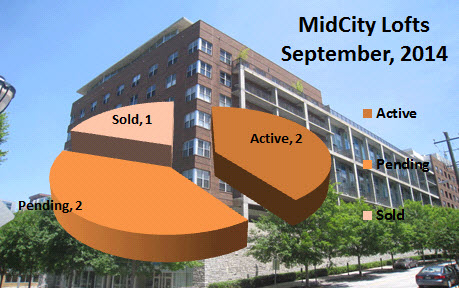 ACTIVE LISTINGS (2)
One 1 Bedroom listed at $199,900
One 2 Bedroom listed at $388,500
PENDING LISTINGS (UNDER CONTRACT) (2)
Two 1 Bedrooms at $184,900 and $210,000
SOLD (1)
One 1 Bedroom at $256,350
In comparison, in September, 2013 there was just one 2 Bedroom sold at $430,000. MidCity Lofts is another condo building that sees rather low turnover on homes. But the floor plans are expansive with polished concrete floors and nice balconies! And the roof-top pool and amenities are awesome!
What's My MidCity Lofts Condo Worth? Want to know what your MidCity Lofts condo could sell for?