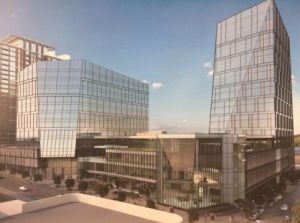 Construction is well underway on the new NCR headquarters building in Midtown Atlanta. I recall attending their presentation of this building, and that Phase II was further down the road. The space where Phase II was slated to go would be a possible temporary park/greenspace.
Ahhhhh…fast forward from July 2015 (when the project was presented to the Design Review Committee (DRC) of the Midtown Alliance) to August, 2016. And Phase II is announced!!! (So much for that green space….) The new building will add some 240,000 plus square feet of office space along with 10,000 sq.ft. of retail and parking for 515 cars. (we's got have that garage!)
The renderings make it hard to figure the number of stories, but the first phase tower will be 20 stories. Maybe this one will be 10? It does however add more excitement in the form of retail to Spring Street and the surrounding area.
Here is a photo of the site before construction began. We'll be sure to post some more in the near future as this great addition to Midtown Atlanta progresses!!