Harry's Caravaca Market To Open Spring 2017 at Trace Midtown
Do you even remember when it looked like this?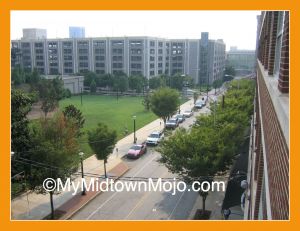 Fast forward to 2016, and that green space that once was, has become Trace Midtown, an apartment building with 290 homes and a unique restaurant space that fronts Peachtree Street.
Caravaca Market will take that space, come Spring, 2017!! The restaurant/urban market concept will occupy some 5,981 sq.ft. and include an "urban market," bakery, cafe, wine shop and craft beer bar. (This could be nice!) The restaurant is from chef and TV host, Harry Pagancross. 
This will certainly bring to life a dead block along Peachtree Street, although many dog walkers I'm sure are missing all that green space that once was. We'll be looking for the opening of this space next year! Stay tuned!
You can see a rendering of the restaurant at WhatNowAtlanta.com