Peachtree Lofts Condos is one of the few Midtown Atlanta condo buildings that has that "industrial loft-like" feeling and look. Homes have exposed concrete beam ceilings from the original construction as well as exposed duct work and concrete floors. Many homes have added hardwood flooring.
If a home has been renovated from the original construction, they can be amazing homes….the original finished were plain white cabinets and laminate counters.
What's My Peachtree Lofts Condo Worth?
Let's take a look at the September sales activity!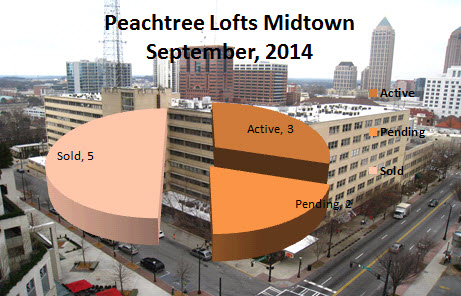 ACTIVE LISTINGS (3)
Three 1 Bedroom homes ranging in price from $173,000 to $210,000
PENDING LISTINGS (UNDER CONTRACT) (2)
Two 2 Bedroom homes listed at $164,222 and $184,900
SOLD (5)
Three 1 Bedrooms ranging in price from $119,500 to $185,900
Two 2 Bedrooms at $210,000 and $272,000 (The $272 listing was OURS!)
In comparison, in September, 2013 there were three 1 Bedrooms that sold, ranging in price from $131,000 to $190,000. And two 2 Bedrooms at $183,000 and $262,500.
Sales prices seem to be all over the board in this building. A buyer has to make sure that "apples to apples" comparisons are made when making an offer on a home here. As mentioned earlier, some are renovated, others not, hence a price range. Also, we've seen some homes listed, and sold for less than the market price…either a seller that needed to sell quickly or an agent that did not price the home right.
In any regard, the building has seen prices rise from the market downturn, and the HOA is strong in this building.
What's My Peachtree Lofts Condo Worth? Want to know what your Peachtree Lofts Condo could sell for?