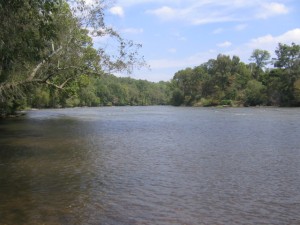 Living in a major metropolitan city like Atlanta has lots of advantages. From Hartsfield Jackson Atlanta Airport which can get you to almost anyplace non-stop, major sports teams, shopping, and night life are just some of the great things to experience when you live in Atlanta. But, when you want to have recreation, some cities can be challenging. Not Atlanta. We've got some incredible place to "get away" with out ever leaving the city. One such place is the Chattahoochee River.
President Jimmy Carter said it best on August 15, 1978 when he signed the legislation that set aside a 48-mile stretch of the river with a series of parklands to preserve a part of the river valley for future generations.
"It's one of the most beautiful places in our country, extremely valuable to all those who know it, who live near it, and who appreciate the quiet and seclusion and the beauty and the value of this river…It's a rare occasion when within the city limits of one of our major cities, one can find pure water and trout and free canoeing and rapids and the seclusion of the Earth the way God made it. But the Chattahoochee River is this kind of place."
For Midtown Atlanta residents, the closest Chattahoochee River access is found at Paces Mill and/or Palisades. Here's a map to show you just how close you are…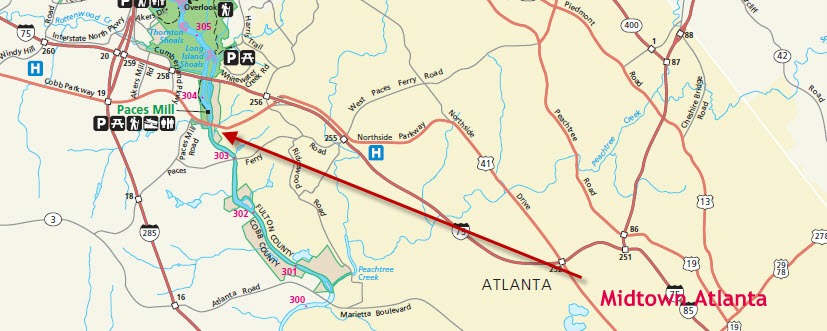 At one time, there was a rafting company that offered rafting trips from one of the upper locations to Paces Mill, but they have gone out of business. But even an afternoon hike is enjoyable and to be so close to Midtown Atlanta. Depending on the river level, one great way to spend a hot afternoon is to take a lawn chair or folding chair, a picnic lunch a good book and hang out on a sandbar along the river. Keep in mind that all access points along the river are not the same. That's why I like the Paces Mill location….because there is often a sandbar to hang out on. And if you have a dog…..let the fun begin chasing sticks in the river!
The Chattahoochee River level will vary based on if either Buford Dam or Morgan Falls Dam have released water into the river. As far down as Paces Mill, this may not be an issue, but y0u could suddenly find your sandbar under water! You can find more information about Water Release by calling Buford Dam at 770-945-1466 or Morgan Falls Dam at 404-329-1455. Enter these numbers in your cell phone now and use them!
There is a $3 Parking fee at any of the river access locations with parking lots. If you suddenly find you want to visit the various parts of the Chattahoochee River, you might want to consider purchasing an Annual pass, just $25.00.
To know your way around the Chattahoochee River Trail System, be sure to check for a trail map…we wouldn't want you lost!
On your next day off, or Saturday and Sunday, venture close to OTP (Outside the Perimeter, but not quite) and check out the Chattahoochee River. Yes, we have Piedmont Park in our backyard in Midtown Atlanta, but hey…..when you can have a river!