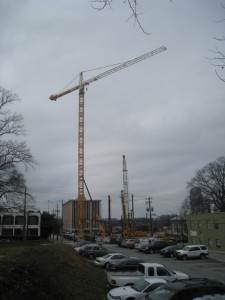 Via Scoop.it – Midtown Atlanta Condos
Did a local designer come up with a better version of SkyHouse Midtown Atlanta than Novare's designs? New 23-story luxury apartment building is under construction at 12th and West Peachtree Streets in Midtown Atlanta. I first posted about this project in November of last year.
I happened across this article this morning in a round about way. I was downloading pictures I took of the site a week ago as the cranes are now up and at it, as you can see here. I had never seen this article, but I do have to say, the "other design" is certainly more striking, especially when it comes to disguising the garage. I've often wondered why there is not a design requirement that masks our mammoth parking garages that are always needed with our buildings.
Due to copywrite laws, I've not shared the other plans, but you can find them in the link to the article.
Via whatnowatlanta.com

View SkyHouse Luxury Apartments in a larger map