Tuscany Condominiums, located at the corner of Juniper and 10th Streets are convenient to Piedmont Park and the commercial corner of 10th and Piedmont!
There was some good activity in this community in September with six homes going Under Contract. Tuscany is attractive because of it's still affordable pricing, but as you can see below, prices here have dramatically increased in the last year!
What's My Tuscany Condo Worth?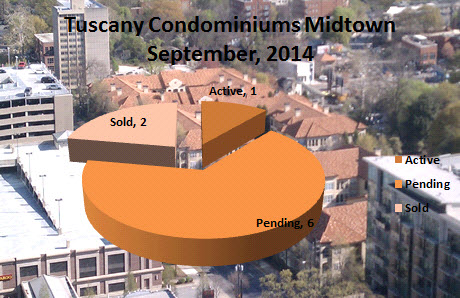 ACTIVE LISTINGS (1)
One 1 Bedroom at $164,900
PENDING LISTINGS (UNDER CONTRACT) (6)
Three 1 Bedrooms ranging from $165,000 to $170,000
Three 2 Bedrooms ranging from $215,000 to $265,000
SOLD (2)
Two 1 Bedrooms at $150,000 and $170,000
In comparison, in September 2013, one 1 Bedroom sold at $122,000 and a two bedroom at $202,500.
Last year a one bedroom sold at $122,00o and this year they are selling at $170,000? That's a better than 35% increase in price! Sitting on the real estate fence can be pretty expensive.
What's My Tuscany Condo Worth? Want to know what your Tuscany condo could sell for?