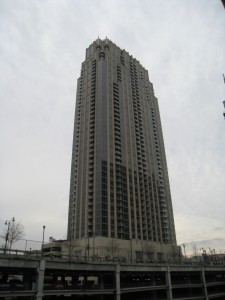 The Midtown Atlanta condominium market has had it's fair share of challenges. And it would seem there are still more ahead as we learn that The Atlantic Residences will convert some 80 homes into rentals. According to a story in the Atlanta Business Chronicle, ST Residential, which owns the building and purchased it out of the Corus Bank 2009 failure, actually converted some 40 units in late summer. Another 4o units will now become rental homes.
Current owners or potential Buyers of a home at The Atlantic Residences at Atlantic Station should not have to worry about their investment. Or so we hope. Fannie Mae and Freddie Mac do not allow financing to buyers in condo towers where they exceed the 25% limit on rentals. According to my calcualtions with 401 units, that means up to 100 homes could be investor owned, or rentals. With this announcement by ST Residential, there's some 20 homes left, but one would suspect that some of those investor slots may have already been taken.
The Atlantic is not the first building to make this move. 1010 Midtown and neighboring 1065 Peachtree also made conversions to rentals. 1010 converted 43 of its 430 homes in 2009, and 52 homes at 1065 Peachtree in 2010. (Note, for those of you that are not familiar with WHAT or WHERE 1065 Peachtree is, these are the condos located above the Loews' Midtown Atlanta hotel. None of these homes were ever sold to my knowledge.)
The Atlantic is a truly beautiful and landmark Midtown Atlanta building. While the real estate market has caused most of it's challenges, many condo buyers have been leary of making an Atlantic Station purchase with the reputation the area had received for crime and other activities. North American Properties purchased the retail-portion of Atlantic Station last year and has set about on an ambitious mission to change that perception (and some of its reality.)
Challenges in selling condominiums has given rise to two new apartment towers, both located on 12th Street in Midtown Atlanta. Daniel Corporation and Selig Enterprises have begun construction on a 22-story apartment building just behind 1010 Midtown, and on 12th and West Peachtree Streets, former condo king, Novare Group led by Jim Borders is developing the Sky House apartment building.
At some point in the future, these buildings could become conversions to condos, but with a lack of higher quality rentals in the Midtown Atlanta marketplace, they may remaining apartment buildings for sometime. Time will tell.