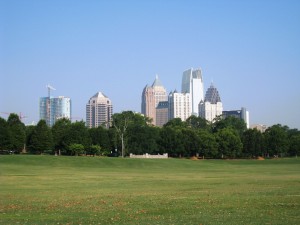 Whether you are purchasing a Midtown Atlanta condominium, or a newer single family home, there is a pretty good chance that you will be dealing with a Homeowners Association, or HOA. If so, you will WANT a Community Association Disclosure as part of your real estate contract.
The Community Association Disclosure – What Is It?
As used in the State of Georgia (remember real estate, and real estate law is local, so be sure to check rules if you live in another state) the Community Association Disclosure Exhibit is broken down into TEN sections:
Type Of Association
Existence of Master Association
Contact Information for Association
Annual Association Assessments
Initiation Fee
Account Statement Letter
Special Assessments
Assessments Pay For Following Services and Amenities
Additional Fees for Services and Facilities
No Warranty –I'll call this when all else fails…..
Type Of Association
As a Buyer, you will find out if the Association is a Condominium Association, Homeowners Association, and/or if it's a voluntary association. The first two will most likely apply if you are buying in a condominium/town home community or newer single family home neighborhood. Older neighborhoods may have a voluntary association were you can join if you wish, but it's not required.
Existence of Master Association
This is common place in condominium buildings that have retail space in them. Their is a Master Association that oversees the management and operation of the retail component of the building, and often times, parts of that Master Association's responsibilities overlap to the condo association. The first major one that comes to mind is retail parking. Most often, the residents will have to pass through the retail parking to reach residential parking.
Contact Information For Association
While every part of this form is important, this part is especially important. If you want clarification, or have more questions about the association, Who Do You Call? As you will see in the "No Warranty" section, "Buyer Beware" and you should ask questions if you have them.
Annual Association Assessments
Here your monthly HOA fee will be listed as a 12-month total. Again, you want to confirm this amount is correct with the HOA.
Initiation Fee
While not all do, MOST condominium associations have an Initiation Fee, or it is referenced in the Purchase and Sale Agreement as "Contribution to Working Capital Fund." Your Initiation fee. Note, on this Exhibit, it says the BUYER is responsible for paying this fee. You want to make sure your agent negotiates to get the SELLER to pay this contribution. (You will find this under Item #20 "Common Expense Assessments" in the Condominium Purchase and Sale Agreement.) Payment of this fee by the SELLER would be covered under a Special Stipulation added to the contract.
Account Statement Letter
As part of the Closing Process, the HOA issues a letter to the Closing Attorney, advising of any necessary fees that are due to the HOA as part of the sale of the home or condominium. These babies can be pricey!!! Make sure the Box is checked "Seller Pays."
Special Assessments
Your monthly assessment, or HOA Fee, pays for the operation and maintenance of common areas of the condominium building or common areas in a subdivision. Part of those fees are put into a Reserve Fund to that the HOA has money in the future to make repairs and handle that maintenance. On occasion, something may come up that requires immediate attention and the Reserve Fund cannot cover it. Think security system upgrade, or in an older building perhaps a major lobby renovation.  These types of expenditures cannot be made without a majority of the owners voting for such a Special Assessment.
And these can range from $1000 to $20,000! So, you want to again confirm with the HOA (I've seen a Seller forget that an assessment was passed, and not paid) if any such thing is being considered.
Assessments Pay For Following Services and Amenities
WHAT is paid for as part of your monthly HOA fee should be listed here. Again, an important part of this Exhibit. Some HOA's cover water and sewer, some do not. Again, you want to know what services you are already paying for, and what additional services (cable TV, Internet, etc) you will be responsible for.
Additional Fees For Services and Facilities
I can tell you 90% of the time, this section is left blank. Ah, but I've a new keen appreciation for there BEING something here! Many condominium buildings now charge Move In and Move Out fees to residents, be they an owner or a tenant (if you have a leasing permit). Some buildings now charge a rental fee for residents to use the club room. Some buildings even do not allow the Club Room to be reserved for private events. These are all things you would/should know before purchasing that home or condominium.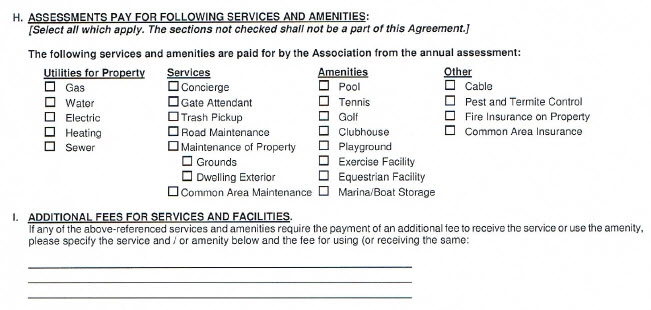 No Warranty
And when all else fails, "Buyer Beware." You are responsible, as the Buyer to ask questions and be informed.
The Community Association Disclosure Exhibit. An important part of your Midtown Atlanta condominium purchase.