Condos For Sale in The Mansion on Peachtree
Search Buckhead Atlanta Real Estate in The Mansion on Peachtree
As a result of Atlanta's construction boom, there are some unique outcomes that will be sure to remain standouts for many years to come. The Mansion on Peachtree is certainly one such addition to the Buckhead skyline.  The Mansion on Peachtree is destined to become Atlanta's premier landmark residence.
The Mansion on Peachtree , A Rosewood Hotel, contains 127 luxurious rooms and suites, and then topped with 45 residential opportunities.
With those unique opportunities come unparalleled amenities as part of this condominium/hotel combination:
In-home  dining  and  catering provided by the hotel
Valet  parking
Housekeeping
Assistance with  tickets for  cultural  and  sporting events
Clothing  alterations
Automobile  services  (fueling, washing  and  maintenance)
Asentee homeowners'   services
Limousine and private auto transportation.
Of course, a day of pampering can also be found at the world-exclusive 29 Spa, developed by fifth-generation Atlanta native Lydia Mondavi. Mondavi has a rich history of winemaking, spa development and skin care expertise.  Capturing beauty from the California Napa Valley, the name is from the Highway 29 that runs through the California wine country.
Homes at The Mansion on Peachtree are either found two per floor, or the unique prospect of owning an entire floor, such as the example pictured here…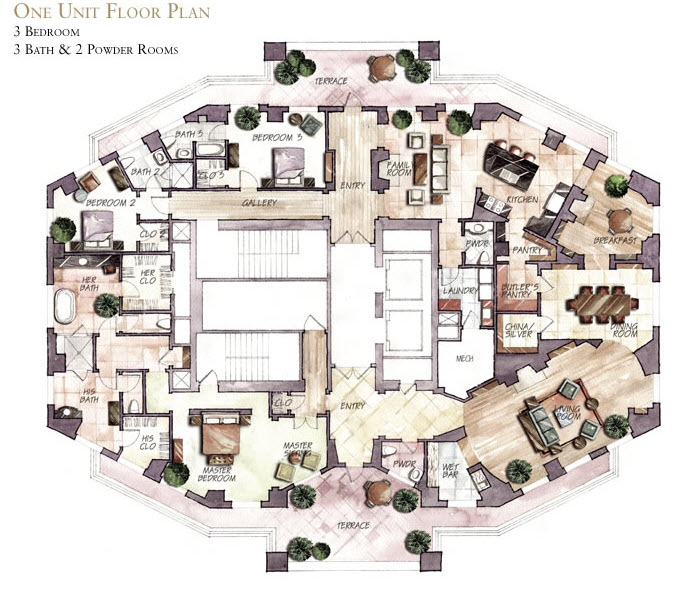 The Mansion on Peachtree. Really. Does living get any better than this?
Click here to learn more about the Rosewood Hotel, The Mansion on Peachtree
Sorry, but we couldn't find any results in the MLS that match the specified search criteria.