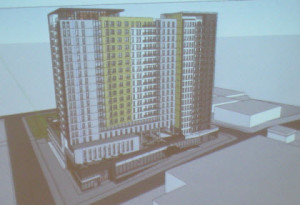 I attended a meeting of the Design Review Committee (DRC) of Midtown Alliance back in February. At that time this project was presented, and was sent back to the drawing board for some modifications. Construction has not started yet, but I suspect we will see the crane soon on the corner of Spring and 8th Streets.
Here is a drawing of the proposed 20 story building. (I recall at the DRC meeting it was going to be higher than that? Maybe not.)
University House College Apartments at Georgia Tech
OAK BROOK, Ill.–(BUSINESS WIRE)–July 11, 2013–
Inland American Communities Group, Inc. ("IAC"), a wholly owned subsidiary of Inland American Real Estate Trust, Inc., has announced that plans are underway for the newest University House property, which will be located within walking distance of the Georgia Institute of Technology ("Georgia Tech") in Atlanta. Developed in partnership with Ambling University Development Group, LLC, the student housing community will be located on the northwest corner of Spring Street and 8th Street in Midtown and is slated to open for the fall 2015 academic year.
"The team at IAC places a high emphasis on developing best-in-class amenities to distinguish University House communities from the competition," said David Pierce, senior vice president of development at IAC. "Based on our experience, we recognize the importance of designing each space for the way students really live, and we look forward to providing this premium housing option for the Georgia Tech community."
The 20-story, mixed-use development will feature 268 units totaling 706 beds with studio, one-, two-, three- and four- bedroom floor plans. Many units will include balconies with views of Midtown, the Georgia Tech campus and downtown Atlanta. Community amenities will include a resort-style pool on an elevated terrace, a secured parking garage, business and fitness centers and a city-view sky lounge on the top floor.
"We are proud to be developing our next project in the heart of Midtown, " said Travis Roberts, president of IAC. "This development will be a great addition to our growing portfolio of student housing properties nationwide."
IAC, which currently manages over 7,000 beds of student housing nationwide, will operate the property upon completion.
About Inland American Communities
Inland American Communities Group, Inc. (IAC) is a development, acquisition and management firm dedicated to the creation of authentic communities in university markets across the United States. IAC was formed in 2007 as a wholly-owned subsidiary of Inland American Real Estate Trust, Inc. The company is headquartered in Dallas. For more information on Inland American Communities, visit www.inlandac.com.
About Inland American Real Estate Trust, Inc.
Inland American Real Estate Trust, Inc. focuses on acquiring and developing a diversified portfolio of commercial real estate located in the United States. The company also invests in joint ventures, development projects, real estate loans and marketable securities. As of March 31, 2013 Inland American owned 759 properties, representing approximately 45 million square feet of retail, industrial and office properties, 4,919 conventional multi-family units, 5,332 student housing beds and 16,407 hotel rooms. Inland American is one of six REITs that are, or have been, sponsored by affiliates of The Inland Real Estate Group of Companies, Inc. For further information regarding Inland American, please refer to the company website at www.inlandamerican.com.