I love working with Buyers for condos in Midtown, Buckhead and other areas of the city! I think my knowledge is very helpful when they are trying to make a decision on where to live, and more specifically, which condo to buy.
As we are standing on a balcony, or looking out a window, I'm often asked, "What is going to happen with that vacant lot?" Ahhhh…..
If There is a Vacant Lot Out Your Window, Buyer Beware!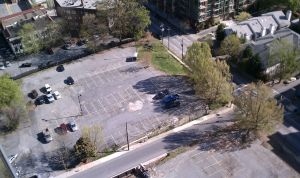 Anytime there is either a vacant lot, or even a low rise building (say 6 stories or less) I caution a buyer that the view could most definitely change. In fact I always say, "You can NEVER guarantee the view." (Now you know, you are never supposed to say never…but in this case……)
Unless a brand new building is there, or a high rise is already in place, there is always the potential that the view can change. Take this photo to the right…..it is taken off of a balcony at Viewpoint Midtown. That lot is at the corner of 7th and Juniper and runs up to Peachtree Street. It actually does not look like that anymore, as a 36-story apartment building is now under construction on that site! See what I mean!
Another case in point is in West Midtown at White Provision Condominiums. This building is not that tall, so certainly has the potential to have something rise in front of it. I've known that the area in front of the building on the corner of 14th and Howell Mill Road is owned by GATech. Well, it seems they may be ready to do something with it!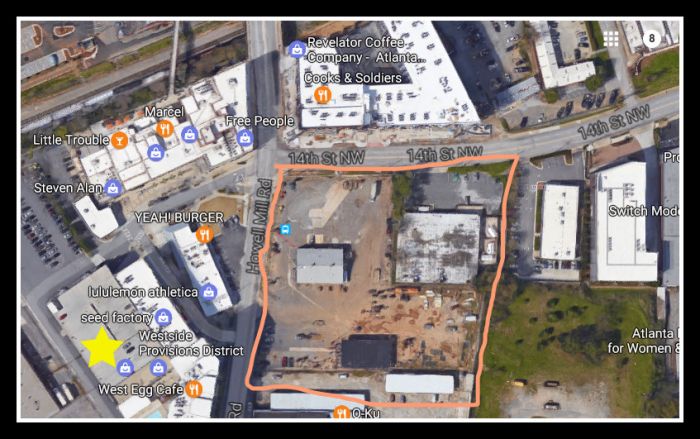 Georgia Tech is now looking for a developer for the 11 1/2 acre site where everything from a hotel, to apartments, office and retail space could rise! They have indicated they would like to include housing that is aimed at being affordable for junior faculty, grad students and others that might want to live near campus.
On the map above, the YELLOW star is the White Provision Condominium building. So, those facing Howell Mill with a nice skyline vista of Midtown proper…..well…..enjoy it while you can.
If There is a Vacant Lot Out Your Window, Buyer Beware!