Viewpoint Atlanta
One of the last new Midtown Atlanta condominium buildings to be built was Viewpoint Atlanta! The building came online in 2008, and has set a standard for many things that condominium buyers are looking for in a Midtown condominium.
From the first new construction building to offer floor plans with a den to amazing amenities, Viewpoint Atlanta has quickly become a favorite of condo buyers. in 2013-14 the lower level exterior of the building (the retail portion of the building) will get a facelift to match the new SkyHouse South Apartments and it's parking garage and retail space.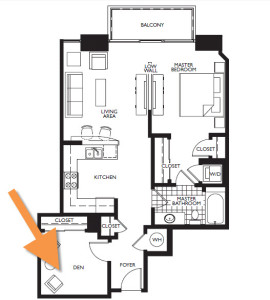 Viewpoint offers a variety of 1 bedroom, 1 bedroom plus den, 2 bedrooms and 2 bedrooms plus den floor plans. The building is 36 stories high, with the majority of the homes starting on the 11th floor and offering 372 homes.  A unique feature is residential homes located on the very front of the building from the 4th to the 10th floor. Access to these homes is from the elevator, and then through the garage level, but they are some very uniquely designed homes with views of Peachtree street. A choice of granite and cabinet colors will vary between odd and even floors. All homes feature a tumbled stone back splash in kitchens.
Viewpoint Atlanta's amenities are located on the 11th floor and are divided into four distinct areas…Fitness, club room, Zen garden and pool. The fitness room is on the 12th floor with panoramic views of Historic Midtown and beyond. On the 11th Floor, the Club Room and Movie Theater occupy the entire end of the floor. On one side of the building is the pool area, complete with two grilling "bars" and alfresco dining as well as a lap pool. The Zen Garden is located on the opposite (North) side of the building and includes two more gas grills and a dining area, outdoor living room with gas log fire place and flat screen TV as well as a stone path that wanders through the garden out a beautiful overlook of Peachtree Street.
Why not come to Midtown Atlanta and see if from your point of view….Viewpoint Atlanta!!
%%ds_Results|{"SearchSetupID":"30","directive.ResultsPerPage":"5","directive.SortOrders[0].Column":"DateAdded","directive.SortOrders[0].Direction":"DESC","query.BathsMax":"","query.BathsMin":"","query.BedsMax":"","query.BedsMin":"","query.Cities":"","query.Communities":"","query.Counties":"","query.DaysOnMarketMax":"","query.DaysOnMarketMin":"","query.ForceUsePropertySearchConstraints":"true","query.ImprovedSqFtMax":"","query.ImprovedSqFtMin":"","query.LinkID":"273977","query.ListingStatuses":3,"query.LotSqFtMax":"","query.LotSqFtMin":"","query.PriceMax":"","query.PriceMin":"","query.SearchSetupID":"30","query.TractIdentifiers":"","query.YearBuiltMax":"","query.YearBuiltMin":"","query.ZipCodes":"","requester.AccountID":"11305","requester.ApplicationProfile":"WordPressIdxModule","requester.ApplicationVersion":"6.2.2","requester.ClientIpAddress":"167.114.159.99","requester.ClientUserAgent":"Mozilla\/5.0 (compatible; MJ12bot\/v1.4.8; http:\/\/mj12bot.com\/)","requester.PaginationUseActivationPath":"true","requester.PluginVersion":"3.17.1","requester.RequesterUri":"https:\/\/www.mymidtownmojo.com","requester.SearchSetupID":"30","requester.UtcRequestDate":"2023-09-29T00:52:47+00:00","responseDirective.IncludeLinkMetadata":"true","responseDirective.IncludeMetadata":"true","responseDirective.ListTabAlignment":"Left","responseDirective.ShortcodeResultsView":"","responseDirective.ShowLargerPhotos":"true","responseDirective.ViewNameSuffix":"shortcode","requester.Signature":"f33c155fd5ecb9df20ef141e853240f3dd648c60"}|ds_end%%