Viewpoint Midtown Atlanta. Going, Going, Almost!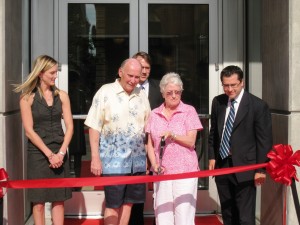 If you know me, you know I've had a long standing love affair with Viewpoint Midtown since the building first opened in June, 2007.  Heck, it was even my clients, Don Jones and Peggy Denby that cut the ribbon for the grand opening event!
So, it's also no surprise that this Midtown community is close to being gone! I mean, I can probably count on two hands the number of 2 bedroom homes that remain! What does that mean for you the Midtown Atlanta condo shopper? Well, you don't have much left to choose from (I still have not seen a bad floor plan –the 11th floor home they have is like living in a garden since it looks out ON the unique Zen Garden of the 11th floor) and there are some great prices to be had!
With interest rates at an all time, maybe never again in our lifetime low, if you are thinking about that condo purchase, now just could be the time to act!  Also, if you perfer new construction over a re-sale condo, the options are getting pretty limited! I'd love to represent you in your Viewpoint Midtown Atlanta purchase! Just give me a call and lets get over to see everything Viewpoint Midtown has to offer you!