Viewpoint Midtown |Midtown Atlanta Market Report |July 2014
Viewpoint Midtown was the last of the Novare-built condominium buildings in Midtown. (They have now turned to mass production of the Skyhouse Apartment building!) But the building did learn from it's older sisters and the amenities package as well as the finishes in the condominium homes themselves were a step up.
Let's take a look at the sales activity in July, 2014 at Viewpoint Midtown….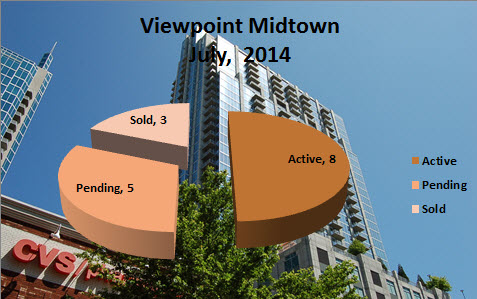 ACTIVE LISTINGS (8)
Three 1 Bedrooms listed from $239,800 to $280,000
Five 2 Bedrooms listed from $305,000 to $394,000
PENDING LISTINGS (UNDER CONTRACT) (9)***
Four 1 Bedrooms listed from $219,900 to $299,900
Five 2 Bedroom listed from $338,000 to $399,000
SOLD (7)
Four 1 bedrooms ranging from $227,000 to $245,000 or an average Sold Price of $238,000
Three 2 Bedrooms ranging from $289,000 to $358,000 or an average of $319,166.
***An important note about prices at Viewpoint — You have to look VERY carefully at the sales numbers in this building because of the way listing agents list the properties. Viewpoint Midtown offers at least three floor plans that are a one bedroom PLUS den, NOT A TWO BEDROOM!. But many agents will list these floor plans as a 2 bedroom. For our market review purpose, we move these back to a one bedroom category where they belong. If you were to count these floor plans as two bedrooms, they do not SELL for as much as a normal 2 bedroom, and the list prices and sold prices for 2 bedrooms would be much lower.
In comparison to 2013, there was one 1 Bedroom sold for $240,000 and two 2 Bedrooms with an average of $355,500.