I've always said to any of my buyer clients, "If there is a vacant lot, there is always the potential of a building going up there."
Such is what I have always said when showing homes with a North-facing view at Viewpoint Midtown. The view from these homes looks out over 7th Street, to Metropolis Midtown and beyond.
Viewpoint Midtown Will Soon Have a New Neighbor
Well….that is about to change my friends…..Introducing Hanover Midtown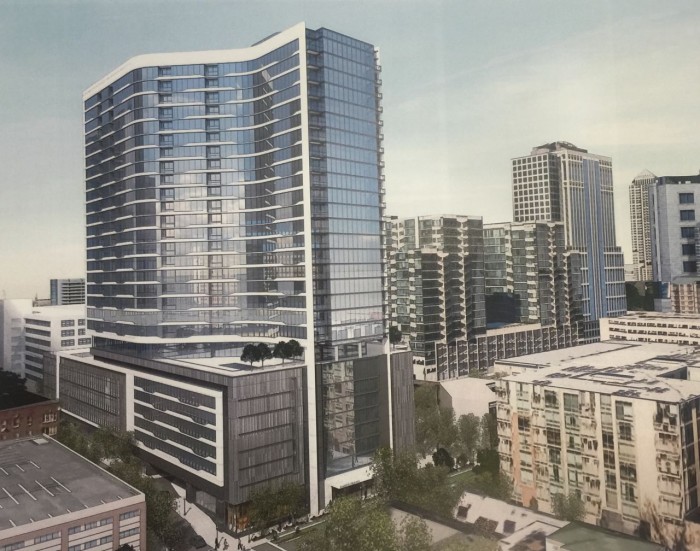 To give you your bearings, the Skyhouse South parking deck is in the lower left corner of the photo. You are looking at the building from the corner of 7th and Juniper Streets, where in fact the main entrance to the apartment building (YES…MORE apartments for Midtown Atlanta). Due to the unique nature of the lot, the Peachtree-facing portion will actually be a 4-5 story office building connected to the 30-story high rise.
Hear that all you North facing Viewpoint residents? 30 stories. Viewpoint is 36 stories.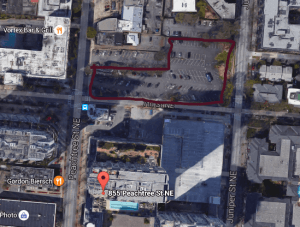 Most of the review this evening by the Midtown Alliance Development Review Committee (DRC) was favorable for the project, and we can probably expect to see construction start sometime in 2016.
The project gives new definition to the meaning of mixed used, as the office building will share the parking with the residential portion, rather than having a separate garage. A roof-top terrace will be on top of the office portion for the office tenants, and there will be an amenities level on the 7th or 8th floor that will include a pool, roof top garden and grilling area and club room amenities such as movie theater, a potential open function space available for residents for private events, and a fitness center.
Plans call for 350 apartment homes, 11,220 square feet of ground floor retail, and 43,025 sq. ft of office space. The information says 28 stories, but during the presentation, 30 stories was also mentioned.
The corner of Peachtree and 7th Streets is shown below, and current plans call for four retails spaces of various sizes.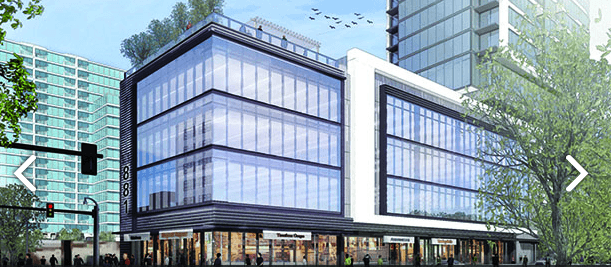 And no…Bulldog's Bar is not going aways as part of this new development.
Hanover is currently developing Hanover West Peachtree on West Peachtree and 10th Streets, where Checker's Drive In once was.