W Atlanta Downtown Residences | Downtown Atlanta GA
April 2, 2017 Update — The W Residences and since sold out, and all homes listed are now re-sale homes. This original post from 2013 still has great information about the homes and lifestyle of the W Atlanta Downtown Residences. (They are now referred to as the W Residences in most listings!) You will find 2 bedroom homes start in the Mid $500's and 27th Floor Penthouses will be $1.6M to $2.9M. These really are stunning homes/floor plans with amazing views and finishes.
Why Do People Live Here?
W Atlanta Downtown Residences opened in 2009 as the first newly-built W Hotel in the city. There are 237 guest rooms and 74 residences, perched on the northern end of Downtown Atlanta and are Atlanta's ONLY W branded residences. (There is also a W Hotel Midtown, but it has no residences with it.) The views from almost every home are striking, considering they start on the 17th Floor. And you have many of the conveniences available of the W Atlanta Hotel, such as in home catering from BLT Steak, an afternoon of pampering at the Bliss Spa, or a relaxing lounge at the 17th Floor pool –another awesome and amazing view as you can see!
Looking for a home at W Atlanta Downtown Residences?
Interested in homes for sale in W Atlanta Downtown? Click that link to find all the currently available homes in this Downtown Atlanta condominium community.
What's the Neighborhood (Building) Like?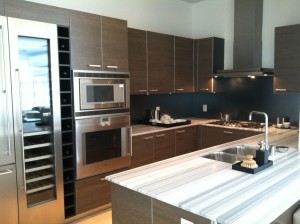 The W Atlanta Downtown has already Sold Out its 1 bedroom homes! 2 and 3 bedroom homes as well as Penthouse residences remain. From the zero-edge pool on the 17th Floor, the Bliss Spa, three destination bars without ever leaving the building and the SWEAT fitness facility, you'll be sure to find something to tickle your fancy. 24 hour Concierge, dedicated private entrance and reception area and signing privileges for hotel food and beverage .
Homes feature open living spaces with expansive window walls, ALNO German Kitchen Cabinetry, Gaggenau Kitchen Appliances, including wine coolers, granite counter surfaces, stone and tile bathrooms and seamless shower enclosures…just to name a few! Two Bedroom homes range in size from 1,171 to 1,919 sq. ft. and three bedroom homes at 2,761 sq. ft.
Oh,yeah….if you are so inclined, you can arrive and depart from the private heliport, located on the roof of the building. Sweet!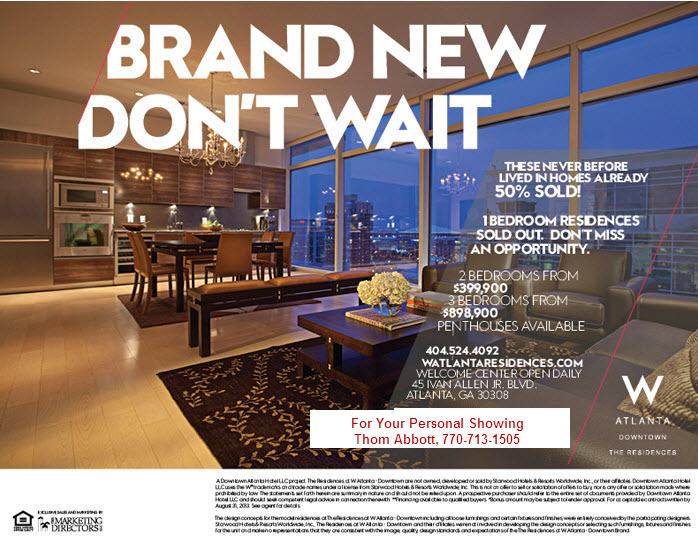 What's Going on Nearby the W Atlanta Downtown Residences?
The W Residences are located on the northern edge of Downtown, but are convenient to Downtown Atlanta attractions such as the Georgia Aquarium, World of Coke, Centennial Olympic Park, Phillips Arena and the Georgia Dome. (A perfect living location for a sports fan, or an athlete!) Arts and entertainment are just blocks away in Midtown Atlanta with the Fox Theater, High Museum and numerous restaurants and pubs.
Now You Really Want to Find a Home Here, Right?
If you are interested in the current homes for sale in W Atlanta Downtown Residences, you will find a list of the homes For Sale located below. Our for sale property information is a direct feed from the MLS and us updated multiple times per day. If you do not have a Buyer's Agent we would be happy to represent you in the purchase of a home at W Atlanta Residences Downtown.
You can also learn more about the W Atlanta Downtown from their website. This is for the hotel, and the page about the W Residences really has no information about the condo portion of the building. The condos do share amenities with the hotel such as the spa and pool.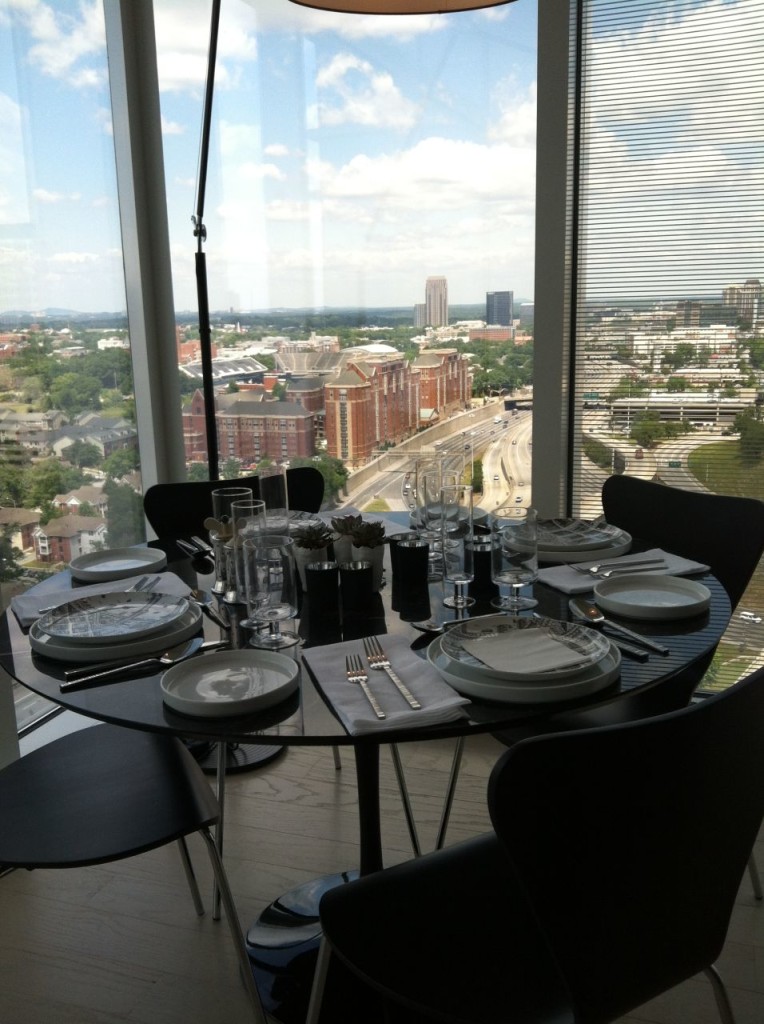 %%ds_Results|{"SearchSetupID":"30","directive.ResultsPerPage":"20","directive.SortOrders[0].Column":"DateAdded","directive.SortOrders[0].Direction":"DESC","query.BathsMax":"","query.BathsMin":"","query.BedsMax":"","query.BedsMin":"","query.Cities":"","query.Communities":"","query.Counties":"","query.DaysOnMarketMax":"","query.DaysOnMarketMin":"","query.ForceUsePropertySearchConstraints":"true","query.ImprovedSqFtMax":"","query.ImprovedSqFtMin":"","query.LinkID":"332797","query.ListingStatuses":3,"query.LotSqFtMax":"","query.LotSqFtMin":"","query.PriceMax":"","query.PriceMin":"","query.SearchSetupID":"30","query.TractIdentifiers":"","query.YearBuiltMax":"","query.YearBuiltMin":"","query.ZipCodes":"","requester.AccountID":"11305","requester.ApplicationProfile":"WordPressIdxModule","requester.ApplicationVersion":"6.2.2","requester.ClientIpAddress":"51.222.253.16","requester.ClientUserAgent":"Mozilla\/5.0 (compatible; AhrefsBot\/7.0; +http:\/\/ahrefs.com\/robot\/)","requester.PaginationUseActivationPath":"true","requester.PluginVersion":"3.17.1","requester.RequesterUri":"https:\/\/www.mymidtownmojo.com","requester.SearchSetupID":"30","requester.UtcRequestDate":"2023-09-27T05:08:51+00:00","responseDirective.IncludeLinkMetadata":"true","responseDirective.IncludeMetadata":"true","responseDirective.ListTabAlignment":"Left","responseDirective.ShortcodeResultsView":"","responseDirective.ShowLargerPhotos":"true","responseDirective.ViewNameSuffix":"shortcode","requester.Signature":"b9455709f27676b427d4802de8919ef436bd6b8e"}|ds_end%%