The Water Tower Stacks is one of a limited number of new construction projects in and around Midtown Atlanta for the condo/townhome buyer looking for NEW construction. The community is located in the Old Fourth Ward area, which is South of Midtown proper.
 Water Tower Stacks Atlanta Announces Pre-Sale Opportunities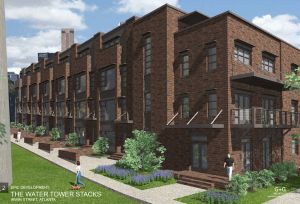 The Water Tower Stacks Atlanta are located at the intersection of Irwin and Auburn Streets. What an awesome location….steps to the new Krog Street Market and the Eastside Trail of the Atlanta Beltline. Follow the Beltline trail by walking or biking and you'll next hit Inman Park with more dining and shopping choices, then the Old Fourth Ward park and the exciting Ponce City Market! I mean, this location has urban written all over it! Head in the other direction towards the King Memorial and you'll have access to the new Atlanta Street Car to take you to Downtown, World of Coke, The Aquarium, Phillips Arena and the new Atlanta Falcons Stadium! Wow!
This intimate community of just 10 townhomes features base prices starting at $575,000 and going up to $675,000 for the largest home, Unit 1. Various upgrade choices are available. According to the developer's website, if you selected every upgrade offered on Unit 1 (including a 4-story elevator) you would top out at $746,575. Additional options include upgraded Viking appliances, wet bar with sink and refrigerator, first level bedroom and bath and and retractable glass wall on the 4th floor terrace.. just to name a few.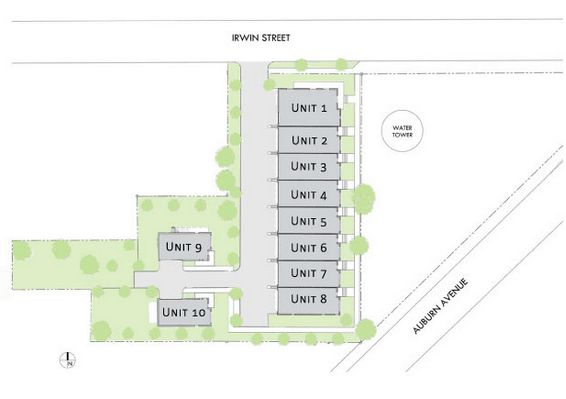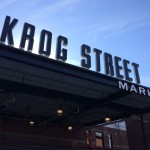 The Water Tower Stacks Atlanta development is located across the street from The Stacks, another mixed-used development. There is so much happening in this area with the Ponce City Market and Krog Street Market that you will have lots of things to do..and some great places to dine…if you don't want to mess up the gorgeous kitchen!
Currently the development is in VIP Pre-Sales process. MyMidtownMojo.com is on the VIP list and we'd be happy to represent you as a Buyer and make a home reservation on one of these select homes. A "Call For Offers" deadline has been set for Monday, February 16, 2015 at 5pm. Once those offers are reviewed and either accepted or declined, the remaining inventory will be released for general sales the end of February.
Contact me TODAY and let's get you into this unique, convenient Intown Atlanta community!