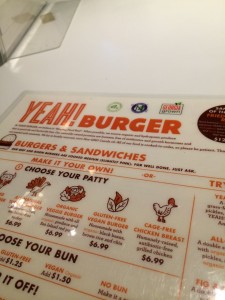 Last evening brought together a great outdoor (well it did get moved inside due to the rain) event with the Atlanta Film Festival and the Westside Provisions District and an opportunity to sample a new restaurant, Yeah Burger! Ok it may not be "new" but it was my first time there!
Busy, busy, busy would certainly be the way to describe this burger joint. We found a perfect spot at the bar and our server/bartender Daniel was but a glance away the entire time we were there, always checking if everything was ok. Well….
It's an interesting menu. You can take a $7.99 burger and turn it into a $15 masterpiece work of art of your own doing without much effort! Let's see, there's the choice of bun ( gluten-free is a price bump) then the cheese, then toppings (the basic lettuce, tomato, pickle and onions get a free ride) and then you get to "sauce it" with everything from buttermilk ranch to peppercorn steak.
Oh, and the fries, they would be a price bump as well.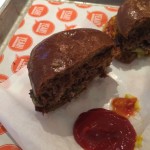 I took the easy (and less expensive route) and opted for the All-American. "A double stack of grass fed beef with organic ketchup, mustard, pickles, minced onions and organic American Cheese. (I love all this organic stuff…not that I ever try to eat it!) My dinner companion went for the California Love — all natural turkey with arugula , crushed avocodos, Thousand Island and Pepperjack Cheese. We split the 50/50 side of onion rings and organic hand cut fries.
Wait a minute? That was a double stack burger? Funny, it was about the size of my regular burger I make and grill on my own grill! I'll admit, it had good flavor, but was a little lacking on quantity. The fries were but luke warm, but the ever attentive Daniel came to the rescue with a piping hot, burn-your-tongue batch when we commented about them not being very hot.
To start the meal off, I ordered a Dark & Stormy (which seemed to go with the weather outside). Daniel did a great job of mixing up Gosling's Black Rum, ginger beer and….you guessed it…organic lime juice. My friend opted for a Mimosa.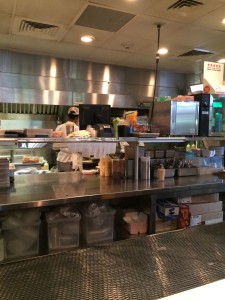 Cocktails or not, including tip I wandered out the door with my wallet some $44 lighter. Seriously? $44 for two burgers, two drinks and ONE order of fries/rings. It was tasty, but not sure it was that tasty!
Mind you the burger craze and Yeah Burger was hopping. The to-go orders were flying out the door and the inside table were jamming!
If you're not so inclined to ride the elevator from your condo to the grills at the amenity deck and whip up your own burger best, then this might be your next option.
Yeah Burger is located just in front of the White Provision Condominiums and across from the many shops (and other restaurants) of the Westside Provisions District.