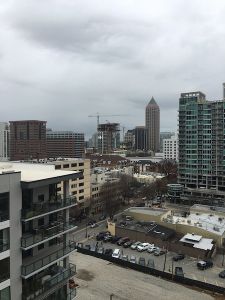 If your are from the Atlanta area, the chance is better than not, you have been to Midtown Atlanta. Between a festival like the Dogwood Festival, or Music Midtown, a play at the Fox Theater, or an exhibition at the High Museum…all of that is…and happens in Midtown Atlanta. So What Is Midtown Atlanta?
Many years ago, as I was building this website, I was trying to create my own vision of what I thought Midtown was. Why did I love it so much? And love selling condominiums in Midtown? I was actually in Montana when I wrote this…
It's an elevator ride from home to the street.
It's waking up with sun streaming in your picture windows
It's coffee on your balcony as the city wakes up below
It's lunch at a sidewalk bistro with your OTP friends
It's a walk to the market for those last minute dinner provisions
It's dinner with friends and a good bottle of wine
It's sampling a different restaurant every night of the week.
What Is Midtown Atlanta?
It's a night of cocktails and conversation in the night life scene
It's a dramatic sunset across the horizon.
It's an elevator ride from the street to home. –Thom Abbott

Come explore Midtown Atlanta and find YOUR Midtown Mojo!!!
Not too bad, eh?
But, I can always count on my friends at The Midtown Alliance to sum it up a bit better. (Well, they have a bigger marketing budget than I do! LOL!)