The movie filming business is hopping in Atlanta! You never know who you will see and when!!
Just this past week, I saw Kevin Bacon in a SmartCar in Buckhead! (Thanks Kevin for going green and not hauling around in a big Surburban….although I'd LOVE to have one!) Anyway….
What To Expect When You Are Expecting was filmed here in Atlanta  last summer, and  the Lionsgate film was shot at various locations around the Midtown area including Piedmont Park and Smith's Olde Bar. The film, which stars Jennifer Lopez, Elizabeth Banks, Dennis Quaid, Cameron Diaz, Chris Rock and Anna Kendrick among others, is based loosely on the popular pregnancy manual, "What to Expect When You're Expecting."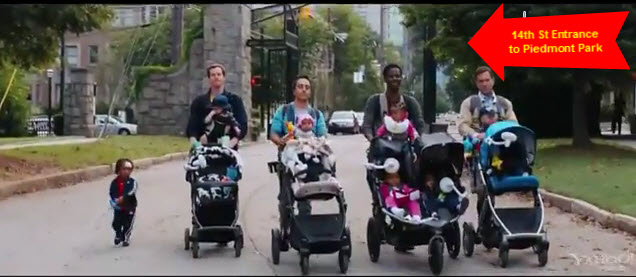 The movie features four couples who are all expecting children and how they deal with the upcoming additions to their families.
The trailer cannot be embeded here, so here is a link to What To Expect When You Are Expecting! You'll see lots of the Midtown skyline in the background, and Piedmont Park!