1010 Midtown was our last new construction condominium building in Midtown Atlanta! All the homes have been sold, and now it is all resales in the building.
1010 Midtown saw a reasonable amount of sales activity in September. Let's take a look!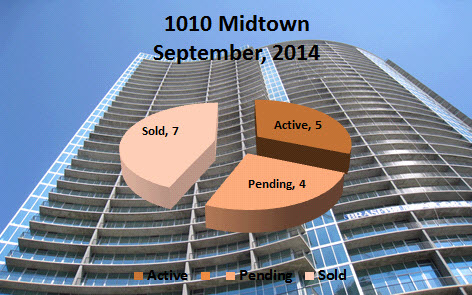 ACTIVE LISTINGS (5)
Two 1 Bedrooms listed at $265,000 and $295,000
Two 2 Bedrooms listed at $464,900 and $600,000
PENDING LISTINGS (UNDER CONTRACT) (4)
One 1 Bedroom at $295,000
Three 2 Bedrooms ranging from $429,900 to $540,000
SOLD (7)
Two 1 Bedrooms at $272,000 and $275,000
Five 2 Bedrooms ranging from $390,000 to $670,000
In comparison, in September, 2013, there were three 1 Bedrooms that sold, ranging in price from $260,000 –  $294,900. Five 2 Bedroom homes sold, ranging in price from $383,000 to $549,900. There was quite a range in pricing on two bedroom homes since the building was "for sale" for several years. The developer held firm on pricing, but some homes sold for less originally, so you just see a variety in prices. Also, the size of the homes, and location of the floor plan make for premium homes on corners and such.
What's My 1010 Midtown Condo Worth? Want to know what your 1010 Midtown condo could sell for?