905 Juniper is another boutique condo building in Midtown. (Meaning smaller with 117 homes) This is another example of a condo building that has held its value. And currently, you need a big check book to purchase here with only 3 bedroom homes on the market. (NOTE: From the time I pulled data, until I got this report out, a 1 Bedroom has been listed at $315,000 and a 2 Bedroom at $499,000!! THAT is how the market changes in a week!)
Let's take a look at the sales activity for September…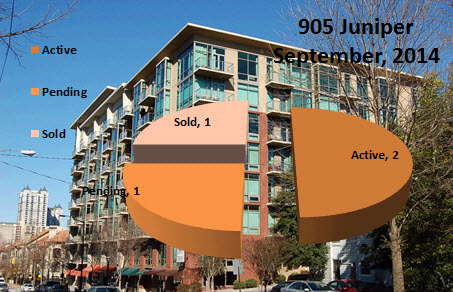 ACTIVE LISTINGS (2)
Two 3 Bedroom homes….one at $739,900 and the other at $1,595,000
PENDING LISTINGS (UNDER CONTRACT) (1)
One 1 Bedroom at $295,000
SOLD (1)
One 3 Bedroom at $755,000
In comparison, in September, 2013 there was one 3 Bedroom that sold at $515,000. The prices for the 2 and 3 Bedroom homes will be somewhat "all over the place" as many homes have had extensive renovations/upgrades to the condos.
But as we can see from above, and is a trend in ALL Midtown condo buildings, there is limited inventory!
What's My 905 Juniper Condo Worth? Want to know what your 905 Juniper condo could sell for?