While prices have certainly gone up, the seem to have stabilized this month at Cornerstone Village. But if you were fortunate to have purchased during the down market, or a 2 bedroom last year, you've seen some incredible price appreciation!
What's My Cornerstone Village Home Worth?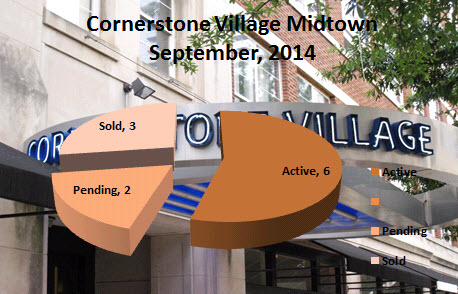 ACTIVE LISTINGS (6)
Four 1 Bedrooms ranging from $129,000 to $145,000 ($129 is a short sale)
Two 2 Bedrooms listed at $210,000 and $229,000
PENDING LISTINGS (UNDER CONTRACT) (2)
Two 1 Bedrooms at $140,000 and $174,500
SOLD (3)
Three 2 Bedrooms at $208,500, $235,000 and $239,000. Note that two of these homes sold in less than 30 days and ALL of the homes sold at 96% of List Price.
In comparison, in September 2013, there was only one 1 Bedroom sold for $122,500. The dramatic difference in prices is found in 2 bedrooms. A like floor plan of those sold in 2014 sold in 2013 for $170,000. And it was not a distressed sale!
Cornerstone Village represents the best condo value in Midtown to be right on Peachtree Street, close to Georgia Tech and many restaurants.
What's My Cornerstone Village Home Worth? Want to know what your Cornerstone Village condo could sell for?