The Mayfair Renaissance and Mayfair Tower condominium buildings are on 14th Street. While they look alike, they have differences! The Renaissance building has the pool, whereas the Tower building does not. The Lobby of the Renaissance building (including the club room and fitness center) is more expansive and they also have a Board Room and Library.
I put both buildings together for this market report, but would be happy to give anyone specific number for either building if they desired.
What's My Mayfair Condo Worth?
Let's take a look at September!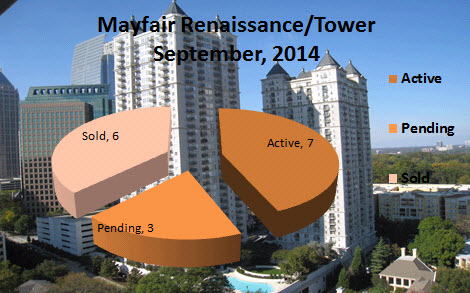 ACTIVE LISTINGS (7)
Four 1 Bedrooms ranging from $176,900 to $205,000
Three 2 Bedrooms ranging from $207,000 to $449,000 (a Penthouse listing)
PENDING LISTINGS (UNDER CONTRACT)(3)
Three 2 Bedrooms ranging from $299,000 to $404,000
SOLD (6)
Four 1 Bedrooms ranging from $154,000 to $190,000
Two 2 Bedrooms (and here is an example of price difference between the buildings) A 2 Bedroom in the Tower on the 3rd floor sold for $190,000 while a 2 Bedroom in the Renaissance sold for $330,00o.
In comparison, in September, 2013, ALL the sales were in the Tower Building with Two 1 Bedrooms selling at $119,000 and $150, 000 and Two 2 Bedrooms selling at $224,000 and $229,000.
What's My Mayfair Condo Worth? Want to know what your Mayfair Renaissance or Tower condo could sell for?