Peachtree Walk is an often "over-looked" Midtown Atlanta condo building. And it should not be! Prices still remain very reasonable here, and the location is convenient to the 12th and Midtown development with its restaurants and shops as well as the Midtown MARTA station on 10th Street.
What's My Peachtree Walk Condo Worth?
There was not much activity in the community in September, but let's take a look!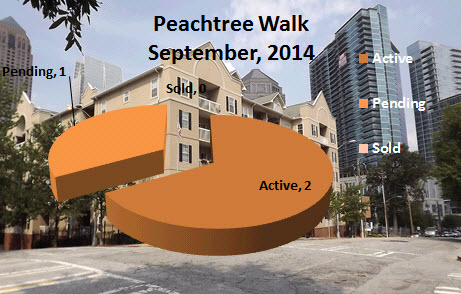 ACTIVE LISTINGS (2) 
Two 1 Bedrooms at $132,900 and $150,000 (And since we have pulled numbers, a 2 Bedroom home was listed at $234,900 on 10/22 and was Under Contract on 10/27…JUST 5 DAYS!!!)
PENDING LISTINGS (UNDER CONTRACT) (1)
One 1 Bedroom at $139,900 (Not including the 2 bedroom noted above)
SOLD (0)
In comparison, in September, 2013 there were no home sales in the building. But the prices at Peachtree Walk are some of the best values in Midtown Atlanta. The community is split into two buildings so the pool is in one building and you have to cross the street to get to it…but a small price to pay for the price of a home in this building.
Many homes have not had upgrades done to them, so a Buyer here can purchase and look to do upgrades to the kitchen and baths, maybe add hardwood floors, and most likely see a good return on that investment!
What's My Peachtree Walk Condo Worth? Want to know what your Peachtree Walk condo could sell for?