Viewpoint Midtown Atlanta is a popular place to live! This building is the newest sister to Spire Midtown and Metropolis Midtown.  As this month's report shows, NO 1 bedroom homes available For Sale!
What's My Viewpoint Midtown Home Worth? September 2014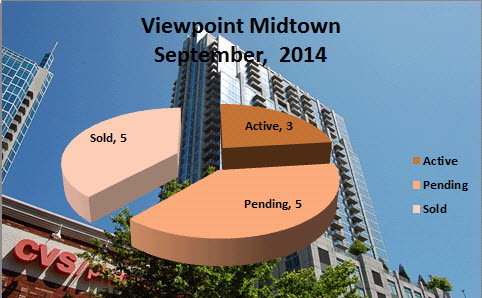 ACTIVE LISTINGS (3)
Three 2 Bedrooms ranging from $310,000 to $384,000
PENDING LISTINGS (UNDER CONTRACT) (5)
One 1 Bedroom at $230,000
Four 2 Bedrooms ranging from $324,900 to $374,900
SOLD (5)
Two 1 Bedrooms at $210,000 and $223,000.  There was an additional 1 bedroom sold, but it was actually a 2 Bedroom that was converted to a 1 bedroom. It sold for $400,000.
Three 2 Bedrooms that sold from $319,900 to $389,750
In comparison, in September 2013, there were two 1 bedrooms that sold at $199,900 and $225,000. There were three 2 Bedrooms that sold, ranging from $374,000 to $379,000.  We also know earlier this year there was a 3 bedroom conversion that had been listed and was sold without a broker for $578,000.
With the exception of one floor plan that might sell at a lower price,  the 1 Bedroom homes have passed the $200,000 list and sale price! 2 Bedroom homes look to be consistent with prices in the mid to upper $300,000 range.