White Provision Residences are part of the larger Westside Provisions District in West Midtown. The West Midtown (or Midtown West, depending on who you ask, or who is doing the marketing….) has taken off in recent years. New rental apartments have just opened right behind the condo building, and there are still a few developer homes left For Sale in the building.
What's My White Provision Condo Worth?
Let's look at the sales activity for September!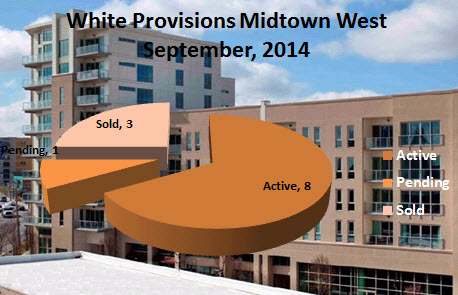 ACTIVE LISTINGS (8)
Two 1 Bedrooms listed at $240,000 and $241,000
Three 2 Bedrooms ranging in price from $492,000 to $577,000
Three 3 Bedrooms ranging in price from $484,000 to $509,000
The price range for 2 and 3 bedrooms in the building can be quite confusing. A 2 bedroom with "flex space" for a 3rd bedroom on the 2nd floor listed at $492,077 and then you go to the 9th floor for a 3 bedroom, actually a bit less square footage, and it's priced at $509,803. Determining value in this building can be a challenge!
PENDING LISTINGS (UNDER CONTRACT) (1)
One Penthouse at $864,262
SOLD (3)
One 1 Bedroom at $222,000
One 2 Bedroom at $337,000
One 3 Bedroom at $780,000
In comparison, in September, 2013, there was only one 1 Bedroom sold at $209,900 so the activity and sales in the building has greatly improved from last year. you might contribute this to the increasing interest in the West Midtown area, and the fact that is is the only building left in the Midtown Atlanta area that would have new construction homes to buy.
As this area continues to develop and add new retail and other living options, White Provision and West Midtown are an exciting Midtown living option.
What's My White Provision Condo Worth? Want to know what your White Provision condo could sell for?