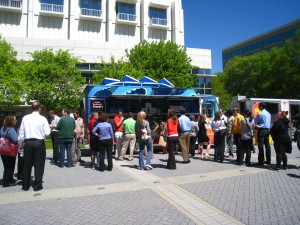 See on Scoop.it – Midtown Atlanta Conversations and Condos
Food Trucks in Atlanta are finally an accepted thing! Amen! But when and where ARE they?
Now, besides the numerous special events that food trucks will show up for, there are regular locations where you can find them:
Atlanta Food Trucks
Atlanta Food Truck Park — 1850 Howell Mill Rd NW, Atlanta, GA 30318 Wednesday 12-7pm
Brookhaven Food Trucks — The popular Brookhaven Food Truck Roundup, now entering its sixth season, returns to Blackburn Park, 3493 Ashford Dunwoody Road, on May 15. By changing the food trucks' location this year to the north end of the park near the Blackburn Pavilion, the event now has the added bonus of bordering a brand-new playground to provide entertainment for the youngsters.