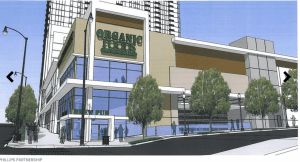 For those of you in love with the organic grocery that is all over Atlanta, you are going to have one gosh darn close to your Midtown Atlanta condo. But don't get out the reusable grocery bag just yet.
On June 9th, plans for an "organic grocery store" were presented to the Design Review Committee (DRC) of the Midtown Alliance. While the developer has tried to keep the store name quiet, the Whole Foods name got dropped numerous times. That and the fact that Related executives (the store is to be part of a residential tower being developed by Miami-based The Related Group) appeared before the Development Review Committee with Phillips Partnership, a firm that has designed seven Whole Foods (NADAQ: WFM) stores, including locations in Sandy Springs and Savannah, might be a pretty good indication as to WHO that organic grocery store will be.
Architect Rob French, with Phillips Partnership, presented renderings of the project, which would stand next to a proposed residential tower at 14th and West Peachtree streets. Miami-based The Related Group is the developer.
But as I mentioned earlier, hold on to that grocery bag. It looks like mid-2016 before a ground breaking, and an opening in 2018!!!  Shreek…that is some 2 PLUS years away!