As much as I love, live and sell Midtown Atlanta, there is one thing that we do lack when it comes to the high-rise condominium community.
Creativity.
Our skyline is fairly lacking in anything unusual or dramatic. Sure, we have the Bank of America building and the Symphony Buildings….but what are they? Office buildings. But when the developers announce a new condominium building (or in our current economy it's all about apartments) what do the buildings look like?
Will Atlanta Developers Keep up with Consumer Needs?
Take the recent addition of Skyhouse Midtown, a highrise residential apartment building. Pretty square…blueish glass we see on many buildings, and oh, we did get a blue round top over the top floor amenities. So now what? Here comes 100 6th Street…and my initial understanding is…a rubber stamp of Skyhouse minus the blue dome roof. How creative!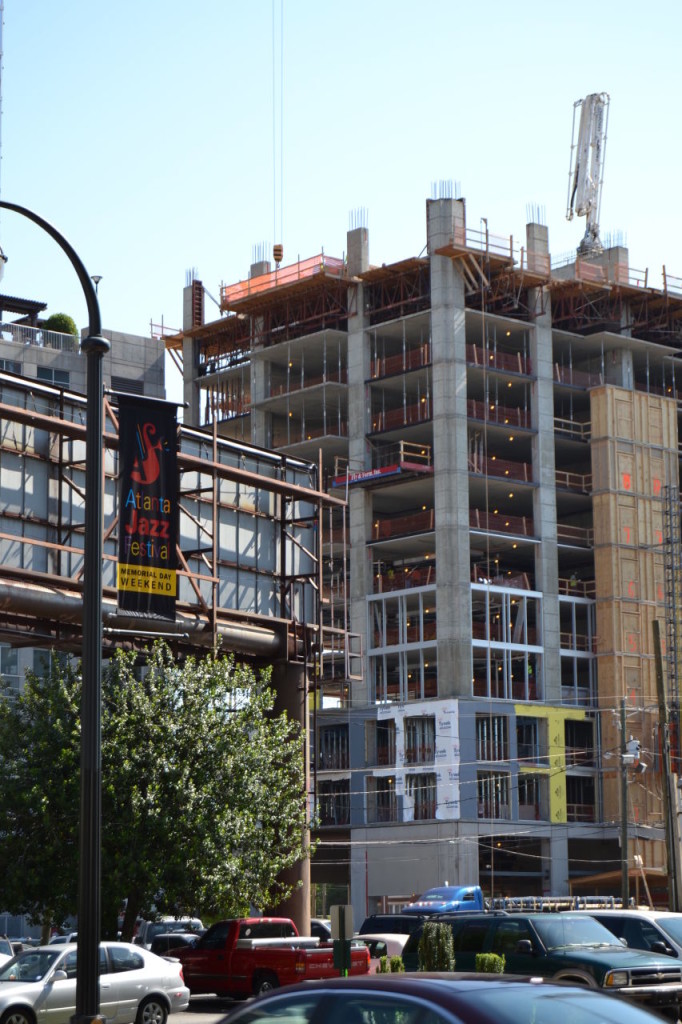 77 12th Street is another new apartment addition to the Midtown skyline. Again, square box. I'll just have to presume it's easier (and far cheaper) to be bland, than be dramatic. I know if I was a developer, and those hundred's of thousands of cars that pass North and South on the Downtown Connector were looking at the skyline (briefly please, watch the cars more than the skyline….) would you not want to be the developer of the "WOW, look at THAT building?"  The Sovereign in Buckhead comes to mind as a building that stands out on the skyline.
And what about amenities? Do we just keep "doing what we are doing" or look to do something different? Do set trends or follow them? I  doubt we set many trends in condominium living in Atlanta. But do we even copy, or pay attention to what's happening in other places?
This post came after I read an article in the New York Times, "Changing Tastes Fuel an Amenities Arms Race."
"Figuring out how to attract new owners and renters to buildings while still holding onto the imaginations of current residents seems to have reignited the amenities arms race. Not only are landlords and the boards of co-ops and condos tailoring the latest extras to the demographics of their buildings, but they also appear to be doing it on the fly, as tastes change quickly around them."
Just think. There are some 8-10 apartment buildings under construction or proposed in the Midtown Atlanta area alone. I'm not counting anything in Buckhead, Sandy Springs or beyond….and we know there are being built everywhere.
But are they just another apartment community? Or is there a WOW factor inside some place? (We know it's not outside in the design!) Is there a "I've got to live at xxxx. They have the most amazing xxxx."
As the doors open on all these new buildings, we shall see. Will Atlanta developers keep up with consumer needs?